By Stephanie Chen
CNN






This story is part of an ongoing series of profiles by CNN about economic survival in this time of financial crisis.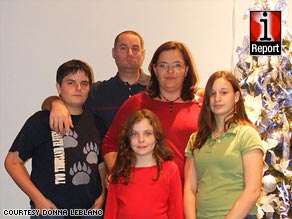 Sean, Brooke and Courtney with their parents, Donna and Robert LeBlanc, in a 2008 Christmas photo.
(CNN) -- Over the last 2½ months, CNN profiled dozens of individuals and families struggling to weather these tough economic times.
Americans across the country face unmanageable debt, foreclosures and unemployment. According to the U.S. Department of Labor, unemployment climbed to 8.9 percent in February 2009, up 5.2 percent from a year earlier, affecting people of all ages, educational backgrounds, and in all parts of the country.
Some economists say the U.S. economy won't recover until 2010 or beyond.
Here, we check in with some of the families who first shared their struggles with CNN's iReport.com. Tell us how you're surviving in this economy
Rob LeBlanc: Becoming a pizza deliveryman to make ends meet
Thirty-five-year-old Rob LeBlanc of Lafayette, Louisiana, was willing to do whatever it took to feed his family of six last year.
He became a pizza deliveryman for more than five months after losing his job as a manager at a truck stop restaurant making $55,000 a year.
He and his wife Donna LeBlanc, 35, faced rising medical debt from Donna LeBlanc's unexpected case of pneumonia and tonsillitis in 2007.
While Rob LeBlanc says he was depressed after multiple job rejections, he said he is glad he took the job for the family delivering pizza for $10 dollars an hour.
In January, Rob LeBlanc told CNN he got a job at a private security company. He still holds that job today. iReport.com: We made lemonade
He is working odd hours, sometimes at the crack of dawn and sometimes into the late hours of the night. He doesn't get to see his kids as much, but he is earning a little over $36,000, a much better deal than working as a pizza deliveryman.
At the same time, his wife continues working her job at a mosquito control company. Donna LeBlanc once dreamed of going to college to study biology. With the family's finances looking up, she said she is looking into applying for government grants so she can go to school to get her degree online.
Their son Sean, 16, struggled to find a position at a grocery store. Now he mows lawns for the neighbors to make money, according to the LeBlancs.
But the last few months have been full of unexpected obstacles. Donna LeBlanc's father was unexpectedly diagnosed with lung cancer and passed away in March. Her sister's husband filed for divorce after 19 years of marriage and Donna LeBlanc took her sister in.
Without Rob LeBlanc's stable job and steady stream of income at the security company, Donna Blanc said her family "wouldn't have been able to survive"
"His job has made it a whole lot easier for us," Donna LeBlanc said.
Rob LeBlanc said his hours will soon become more regular, hopefully allowing him to spend more time with his family. He hopes to move into a supervisor position in the future.
"We will weather these situations the way we always do," says Donna LeBlanc.
"What can you do when you get hit by wind? You can either stand up or bend back and fold."
Don't Miss
Leah Bird and Ed Wright: From Beverly Hills to camping on mom and dad's farm
This January, Ed Wright and his wife Leah Bird swapped their happy Beverly Hills apartment lifestyle for a trailer on a five-acre farm in Oregon owned by Wright's parents.
It wasn't an easy decision to make, but became necessary when Wright, 48, was laid off from his job managing life insurance portfolios for millionaires, the couple says.
Life has been a drastic change for the couple. In Los Angeles, California, they dined with friends at the trendiest restaurants and spent countless hours at the beach surfing and frolicking in the sun.
At the farm, they learned to tend to animals and shovel manure. They also learned to get along with Wright's parents. iReport.com: From Beverly Hills to Hillbillies
The couple recently celebrated three months living in their 1974 Airstream trailer, shaped like a silver bullet and purchased from Craigslist. They worked hard remodeling the trailer, first a new kitchen and then a new bathroom. They finally finished the construction and are adding final touches, putting up photographs to make it truly feel like home.
"Our trailer has definitely become more livable," Wright said.
Things are looking up for the couple. Bird, 28, was ecstatic to find a job as an office assistant in town. While she is taking a $15,000 job cut, the couple says it's better than nothing in this bleak job market.
Wright is still unemployed but he's taking his time off to figure out his next career move. For now, he has taken an interest in local produce and plans to grow his own fruits and vegetables. Each day he works on preparing the compost so that it will be ready in May. He has already planted three apple trees and grape vines.
"We really have a sense of peace here and we are feeling better now," he said. "Things could be a lot worse."
And would the couple ever move back to Los Angeles?
"Not unless they offered me a great paying job," Wright said. "But even then, I would work a few years, quit and then come back here."
Jeffrey Root: Moving to your parents' basement at 27
Saddled with credit card debt and working at a low-paying fast-food restaurant, Jeffrey Root, 27, decided to go back to college to study English during the economic crisis to better his future.
To save money, Jeffrey Root and his wife Mandi Root, 22, accepted an offer from his parents and moved into their basement in Springville, Utah, last year.
The couple knew a rent-free place would make it easier for Jeffrey Root to return to school and pay off credit card debt.
Moving back in seems to be a growing trend across the country. Multigenerational houses increased from 5 million in 2000 to 6.2 million in 2008, according to AARP. Some of the increase is due to "boomerang children" who move back in with their parents after leaving their home.
It's been more than six months since the couple moved in and they say their relationship with Jeffrey Root's parents is good. Jeffrey Root is in his second semester at Utah Valley University taking general courses before delving into his major next year. His favorite class is archaeology. iReport.com: Live with parents
"I consider myself a jack of all trades," said Jeffrey Root, who plans on graduating in spring 2011 and then going on to get his masters and doctorate so he can eventually teach. "I really love learning."
Meanwhile, his wife continues working at a retail clothing store to bring in extra cash. He also works part time at the university. The couple is excited that they lowered their credit debt from $8,000 to just $1,500.
They hope to get their own place by then end of the summer or early next year. But for now, they want to continue paying off debt and saving money for school.
"I'm really happy with the decision I made," Jeffrey Root said. "I know its' going to help me out in the long run."
Nicole Thompson-Arce: Living with an ex-husband and current husband
Nicole Thompson-Arce, a 28-year-old mother of two, was stuck. When her husband Matthew Arce lost his job, the couple began to accumulate serious debt.
The sour economy made job prospects grim. So the couple did the unthinkable: They moved in with her ex-husband.
Despite a messy divorce and custody battle with Nicole Thompson-Arce in 2005, Craig Thompson, 42, invited the family into his home in Omaha, Nebraska, when he heard about her dire financial situation last Christmas. Craig Thompson's finances were better as he still held on to his job of 18 years at a Wal-Mart bakery.
Nicole Thompson-Arce said yes right away. iReport: Read Thompson-Arce's post
And her husband, Matthew Arce doesn't mind at all. In fact, Mathew Arce, 22, and Craig Thompson are friends.
There have been many benefits for the couple aside from saving money. The two girls get to see their father more often, every day for dinner instead of once or twice a week, Nicole Thompson-Arce says.
"The girls get to see us all the time," she said. "It's brought us all closer together and the girls are seeing that something positive can come out of divorce."
She said there haven't been any fights since they moved in to the three-bedroom, one-bathroom house. Nicole Thompson-Arce and her husband share one room while her daughters, Victoria, 7, and Caitlyn, 6, share another room. Her ex-husband has the third room.
The family likes the living arrangement so much that Nicole Thompson-Arce and her husband plan on staying until the girls finish high school. Even if finances improve, they say they will continue living together
"We believe that if it isn't broken, then why change it," he said.
Jean Lindsay: Building an online posse at 67 to find a job
Jean Lindsay knew recovering from a job loss would be challenging -- especially at the age of 67.
About 1.07 million Americans 55 and older also lost their jobs, according to the AARP. Lindsay found little success searching for a new job and was even rejected from a position at Lowe's garden center.
While Lindsay, who has two master's degrees, panicked at first, she eventually found a way to make her Internet-savvy skills work for her. With a Web camera she received from her brother, she posted videotaped monologues about her struggles to find a job. She made motivational videos telling older folks to "Get up and get out!" She has posted more than 40 videos on CNN's iReport.
She said the support she gets from her fans helped her get through.
Her relentless paid off. Last Friday, she was offered a telemarketing job for a company in New York that helps parents secure better tuition deals with universities.
"I feel so lucky to get this job," she says. Watch Lindsay's post
Lindsay says she was impressed with the company because there are several other older workers there. She said she enjoyed meeting all of the people. "I felt so comfortable there," she said.
She said her computer skills are a tremendous asset for the job since much of the work will be done at home. Her boss was particularly impressed with her iReporting skills, she said.
"It's getting tougher to stand on your feet all day and be a sales clerk," said Lindsay, who is glad to be working from home.
E-mail to a friend

All About Job Losses • Job Searching • iReport.com