By Jessica Ravitz
CNN





(CNN) -- At 44, Dan Kostrikin never saw his living situation coming to this.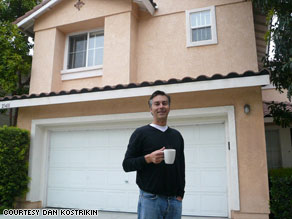 Given the economic downturn, Dan Kostrikin, 44, is searching for his first roommate since college.
The Torrance, California, executive recruiter had been enjoying success and all the freedom his single life afforded him.
He remodeled the home he bought last year just as he wanted it. He traveled outside the country a few times a year. He ate out for almost every meal, treated himself to the pricier cell phone plan and belonged to a really posh gym.
Those comforts, however, slipped away as many companies stopped hiring, making his commission-only job next to impossible. With only one executive placement in four months, he said he's only eating at home, changed his cell plan and gym membership, suspended cable television service and his only travel plans amount to walks on the nearby beach. Tell us what you're doing to survive economically
While all of these changes have been adjustments, the biggest one is yet to come. Kostrikin, who hasn't had a roommate since college, is now desperate to find one to help make ends meet.
But how does a 44-year-old guy, who's admittedly a little set in his ways, open up his immaculate, no-shoes-allowed-on-the-wood-floors home to a stranger?
"I'm a little bit leery -- actually a lot leery," he said. "But I don't really have a choice."
Kostrikin is just one of many across the country who, because of the economic downturn, are looking to rent out rooms in their homes by posting ads on craigslist, a Web site that allows free classified listings.
A 47-year-old Las Vegas, Nevada, man, who only wanted to go by his middle name, Singh, has always lived a simple life. Unlike Kostrikin, he hasn't even had cable. And he's always had a couple roommates in his four-bedroom home.
"I've always felt it's good to have a financial cushion," he explained. "But now it's a matter of survival."
Singh, a software developer, has been out of work for three months and is now on a mission to rent out his guest room. Doing this, however, hasn't been as easy as he'd hoped, even though he's offering a furnished room at a mere $435 a month.
"Until recently, we had a lot of people coming to town ... I thought I'd be inundated with calls," he said. "Right now, it's been quiet."
It could be there's greater competition in Las Vegas, as more people look to rent out rooms.

Watch how a Miami homeowner is desperate to sell »
"There's SO MANY MORE postings [on craigslist]... and people are offering much cheaper rooms," wrote Tiffany Diamond, who lives in the same area, in an e-mail to CNN.
She has been looking for five months for a roommate, something that had never been a problem before she said.
"The number of rooms available is ridiculous!"
In fact, in the last 12 months, roommate listings increased 65 percent overall, and 75 percent in Las Vegas alone, said Susan MacTavish Best, a spokeswoman for craigslist.
But a string of publicized scams are making some renters hesitant, according to Singh. The scams involve renting homes that are going into foreclosure to unsuspecting tenants, he said.
"This is Las Vegas for you," said Singh, who said he shows prospective renters paperwork to prove he's up to date on mortgage payments.
Work isn't Tom Savage's problem. The 57-year-old government employee, who lives in Silver Spring, Maryland, is lucky to have a steady paycheck. But his divorce last year has him paying two home mortgages -- his and his ex-wife's. iReport.com: 'I am literally living in a closet'
Last year he remodeled the home he shares with his 23-year-old son, with every intention of selling, he said. Then the market tanked.
"Suddenly, without renting a room, it would be tough to make ends meet," said Savage, who said he "just got killed by utility bills" due to the harsh winter.
He's most concerned about finding someone who will be compatible with him and his son, he said.
"But I'm pretty easy going ... Back in college I lived in a commune environment," Savage explained. "About the only thing I don't want is a young rowdy guy. It's not a frat house."
A screenwriter in Glendale, California, however, issued a harsh warning to newbie craigslist posters like Savage. She did not want to be named, due to security concerns and possible pending litigation, but said she's emerging from "a nightmare" caused by a first-time tenant situation gone bad. Way bad.
The renter, whom the homeowner brought into her four-bedroom, 80-year-old house to help with skyrocketing utility bills of about $800 a month, moved in on February 12.
"That same night, she went through my income tax papers, she took my Discover card ... [and stole] my social security number," the homeowner said.
Not only that, the renter reportedly drank her $50 French wine, emptied four bottles of vodka which she replaced with water, ate all of her food and burned the microwave.
"She would have burned this house to the ground," said the homeowner, who asked the renter to leave only two days in, with the offer of a full reimbursement and payment for another move. "She called me everything up and down ... and talked about suing me for pain and suffering!"

The lesson learned, the homeowner said, is to never take someone in without doing a background and credit check, things she failed to do.
"No one should go through this," she said. "I hope what I went through helps someone else."
E-mail to a friend

All About Craigslist Inc. • National Economy