By Patrick Oppmann, John Zarrella and Kim Segal
CNN





MIAMI, Florida (CNN) -- Some people feel a twinge of guilt at hotel checkout time when they see the small bottles of complimentary soap and shampoo that will be thrown out when they leave the room.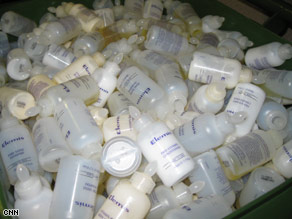 Cruise ship shampoo that formerly would have been thrown away is now going to the homeless and needy.
For cruise lines the guilt is all that much greater.
"You start doing the math," said Stein Kruse, CEO and president of Holland America Cruises. "You take thousands of people, thousands of these bottles and you multiply over several weeks and months the numbers go into the tens if not the hundreds of thousands."
Until recently those thousands of shampoo bottles and soaps, used or unused, all went one place: landfills.
But then the cruise line came up with a new use for the discarded items. They are now collected, separated into bins and brought through Customs at ports of call.
The process is more labor-intensive and time-consuming than just throwing it out, and the cruise line won't make any profit for the extra work. It is donating the goods to the homeless and needy.
The program, called Ship to Shelter, started last year in Seattle, Washington, where Holland America is based. In January it expanded to Port Everglades, near Fort Lauderdale, Florida.
'Ship to Shelter'
"American Morning" has the story of how a cruise line is helping the needy.
Monday, 6 a.m. ET

Marti Forman is CEO of the Cooperative Feeding Program, a recipient of the program in Florida. She said the program did not come a moment too soon.
The group feeds about 400 people a day and provides hot meals and showers for homeless men and women. Like many other charitable organizations in these grim economic times, the Cooperative Feeding Program has seen donations drop dramatically.
"The donations aren't there, the cash donations in order to be able to have expenditures like that to us have become a luxury item," Forman said. "If we have to decide between people having shampoo [or] people having something to eat, we're going to opt to have the food for them."
With the cruise line's donations, now the program will no longer have to make that choice. And since the program started, Forman said, there has been an increase in the number of people coming to the shelter to use the showers.
For Holland America's Kruse, the program speaks to a human need.
"How important it is for a person who is homeless to have clean hair," Kruse says, "to have shampoo that they can get for free and clean themselves."
The program's impact has spurred Holland America to begin donating other items, Kruse said. The line has decided to give away TVs, uniforms, plates, silverware, and pots and pans, too.
Kruse said he hopes other companies that are throwing away used but reusable items will follow suit and donate goods they discard every day.
Sheldon James, the crew purser aboard the Noordam, a Holland America ship that is docking at Port Everglades, Florida, prepares the paperwork to get bins of shampoo bottles, soaps and even office supplies through Customs.
It is added work for him and the crew, but they have more than pitched in.
"This is primarily stuff that is left over by our guests," James said, but crew members who heard of the program also are "donating clothing, books and other stuff that [the homeless] need."
Taking advantage of the shower at the Cooperative Feeding Program, Samuel Brown, a homeless man, said he is grateful for every little bit of assistance -- even donated shampoo.
"When you walk into a place with a help wanted sign, the first thing they're gonna look at is your appearance," Brown said.
Also using the shelter to clean up is John Nilson. The shower is the best part of his day, he said.
"You come out of here and for a second you can actually feel like it's not so bad for that one brief moment."
E-mail to a friend

All About Coalition for the Homeless