LOS ANGELES, California (CNN) -- The Lamborghinis and Bentleys still cruise Rodeo Drive in Beverly Hills.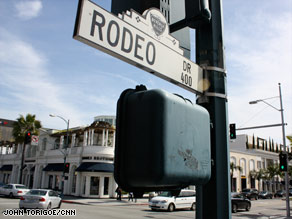 Beverly Hills officials say they expect tax revenues to drop by about $24 million over the next 16 months.
But these days, visitors to California's most famous ZIP code are more likely to take note of the empty storefronts and deep-discount signs.
Call it recession, 90210 style.
Fewer sales have meant fewer tax dollars even for this well-funded city.
City officials say they expect tax revenues to drop by about $24 million over the next 16 months. They say, as far as they know, that's the biggest single blow to the city budget in Beverly Hills' 93-year history. Budget cuts being considered to cover the shortfall include reducing police overtime.
Extreme wealth often cushions cities, just as it does individuals, during recessions. But Beverly Hills business owners say they're feeling the impact this time.
Jordan Tabach-Bank owns The Beverly Loan Co., which bills itself as "Pawn Shop to The Stars." Since the 1930s, three generations of his family have offered socialites, businesspeople and celebrities confidential loans for precious jewels and artwork.
He says now he's giving more loans and they're bigger than ever, including ones to local business owners needing money to cover payroll and keep their businesses afloat.
"Doctors, lawyers, accountants," he said. "I recently had a hedge-fund manager in here getting a large loan on his collection of diamonds."
Nearby, boutique owner Parvin Yonani said she's slashed prices by as much as 85 percent. She says tourists are staying home and Beverly Hills residents are holding on to their money.
She cut the price on a pair of shoes from $1,800 to $245.
"Still I couldn't sell it," she said. "I paid about $800. So you're taking a loss."
Another local business owner, Thomas Blumenthal of Geary's Beverly Hills, said there are still signs of life in the West Coast mecca of the well-to-do. He's had to trim some of his employees' hours, but hasn't made any other major changes, he said.
"The wealthy still have money," he said. "We're still seeing people coming in, spending money on new homes, redoing their homes, buying new jewelry and statement pieces.
"It's just not happening as much as it was last year."
Jerry Nickelsburg, an economist at University of California, Los Angeles, said that considering measures like home foreclosures, the downturn hasn't been as bleak in Beverly Hills as other cities.

But he said that in one crucial way, this recession cuts across income lines. He said a collapse in consumer spending last September has continued until now.
"That collapse in consumption was widespread and based on a fear -- uncertainty -- about the future," he said. "So that really crossed all income classes."
E-mail to a friend

CNN's Chuck Conder and Kara Finnstrom contributed to this report.
All About Hollywood • Travel and Tourism • U.S. National Economy