By Marian Salzman
Special to CNN





Editor's note: Marian Salzman is chief marketing officer and a partner at Porter Novelli Worldwide and is co-author of "The Future of Men" and "Next Now." She was named among the "top five trendspotters" by VNU in 2004 and has been credited with popularizing the term "metrosexuality." She blogs at www.pnintelligentdialogue.com.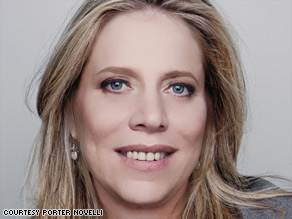 Marian Salzman says the economy has pushed romance down some people's priority lists
NEW YORK (CNN) -- After months of talk of bank bailouts and auto-industry rescues, along came Larry Flynt. The long-embattled porn purveyor had a cheeky message to Congress, requesting a bailout for the adult entertainment industry, to recover losses stemming from the nation's low libido.
"People are too depressed to be sexually active," Flynt said. "This is very unhealthy."
Whatever you make of Flynt, he has a point. In a recent Porter Novelli survey, we asked Americans whether or not they view themselves as romantic.
Back in 2003, when we first popped the question, less than half of respondents answered yes. This time, the numbers had slipped for both women (from 44 percent to 42 percent) and men (from 38 percent to 36 percent).
It's not surprising to see romantic feelings on a downturn. For many of us, sex and romance have been kicked to the back of the priority line, behind concerns about layoffs, plummeting home values and dwindling bank accounts.
Every day, as more people are shut out of their careers or lose their hold on a regular income, they're left with their self-worth hanging in the balance. Then, feeling depressed, introverted and uninterested in sex, they leave their partners feeling cast aside and inadequate.
In her recent Forbes column, octogenarian sexpert Dr. Ruth Westheimer urged couples to keep an eye on the bigger picture, to keep the lines of communication open and, above all else, not to take diminished desire personally. "This economic tsunami is going to have a negative effect not only in the boardroom but the bedroom," she wrote.
Financial anxieties, together with our 24/7 connectivity obsessions, are changing the face of intimacy. Our new total tech addictions have us more interested in updating our Twitter feeds, monitoring our Facebook friends and spilling our guts on our blogs than in connecting live and in real time.
Zimbabwean law student Chelsy Davy recently bid a royal Facebook goodbye to longtime flame Prince Harry by changing her relationship status to "single," signaling to her friends (and the British media) that their five-year affair was through.
Online oversharing recently brought Internet and real-world fame to young New York writer Emily Gould. A former editor of wildly popular media-industry gossip site Gawker.com chronicled her sex life and breakups (including one with a co-worker) on that site as well as on her own blog, developing a love/hate relationship with her readers who offered their sometimes brutal opinions in the comments section.
Is there an upside to our obsession with tech-enabled virtual relationships? We're certainly learning to be much clearer about what we want.
Fifteen years ago, I worked with Glamour and Esquire magazines to develop risqué poll questions that would unearth men's and women's real attitudes about sex. We wanted to find out who did what with whom, when, why and how; what people fantasized about; what they hated and what they hoped for.
Don't Miss
This sort of intimate information was (and still is) captivating. But back then, it also carried a shock value that no longer exists today. These days, people simply place an ad on Craigslist describing -- in detail -- their most intimate fantasy, along with a description of who they want to help them attain it. No money, no strings attached.
Singles with less cash for bar tabs are increasingly turning online to shop around for dates, long-term partners or just for a quick tryst -- a spike in activity that will give more cachet to Internet dating and remove any remaining stigma of placing a personal ad.
Complex search capabilities make it easier than ever to tap into a precise community. For instance, PlanetOut connects gay singles; Nerve caters to hipsters; Jdate was launched to match up Jewish men and women, though a number of non-Jews populate the service too.
Users can sort prospects by religious affiliation, height, weight, even literary preferences or income bracket. They can chat via e-mail, phone, even video before they ever meet in person, lessening the chances of wasting time or money on an in-person date with an unsuitable mate.
As more and more people get comfortable with sharing (and oversharing) the details of life, love, sex and money online, this kind of transparency becomes the new normal. And it's not just millennials who are playing this game; even 40-, 50- and 60-somethings are hooking up, putting out and breaking up online, for the world to see.
While Emily Gould may profess to regret some of her decisions, in the end she scored a New York Times Magazine cover and a six-figure book deal for her pains. If Dr. Ruth wants us to keep the lines of communication open, there's no doubt we have the tools for it.
Our current crisis and our connectivity are certainly changing the way we relate to one another, but they can't kill romance.
In fact, the best thing about romance is that it's fun, it feels good, and when necessary, it can be had on a budget. For now, let's hope for a proliferation of what Michael Alvear, sex columnist and co-host of HBO's "The Sex Inspectors," calls Recession Sex:
"If you're coupled, you're going to spend more time at home, and at some point that TV's gotta be turned off. The nesting impulse will increase your resting pulse."
The opinions expressed in this commentary are solely those of Marian Salzman.
E-mail to a friend

All About Ruth Westheimer • Chelsy Davy