By Tracy Sabo and Lisa Respers France
CNN





DALLAS, Texas (CNN) -- Jasmine Rocha learned a valuable budgetary lesson when planning her quinceañera, the 15th birthday celebration that represents a rite of passage from childhood to womanhood for Latinas.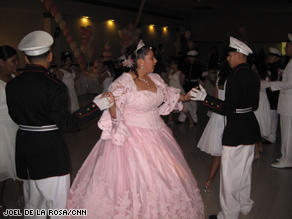 Jasmine Rocha dances with two cadets at her quinceañera.
"It was very hard because sometimes the stuff that I wanted, it wasn't able to come through," said the teen from Dallas, Texas.
Jasmine's mother, Grace Grimaldo, sometimes has a tough time even paying the family's phone bill, but balked at the suggestion that her daughter's quinceañera was not a financial necessity.
"I had to," Grimaldo said. "It's very important because it's traditional down from generation to generation, and I had one, and my daughter definitely wanted one."
When the economy takes a downturn, not even traditions escape unscathed.
From birthday soirees to Bar Mitzvahs, many are scaling back or getting creative with planning gatherings. iReport.com: Tell us how you're surviving
Don't Miss
Increasingly, parents are thinking "my super saver" rather than "My Super Sweet 16" and choosing to forgo the elaborate in favor of more intimate, and sometimes more cost effective, events.
Raul Salas, owner of D'Gala Bridal Boutique in south Dallas, is one of several vendors who benefits from the multimillion dollar quinceañera industry in the United States.
He said the months of December and January were his worst in 14 years of business.
While he typically works about three quinceañeras every weekend, he said he has had no bookings in the last two months and customers he has worked with are looking for deals.
"People come to make me an offer," he said. "If I got a dress for $400, they ask me for a discount, and I give them 20 percent discounts. It's better to make $100 than nothing."
Quinceañeras, which often begin with a religious ceremony before the party, can be huge productions, sometimes on par with weddings in terms of arrangements and cost. iReport.com: Is the recession affecting your wedding day?
Special salons that cater to quinceañeras often offer package deals with all the decorative amenities to match including a stage, balloons, catering, cake, video and photography, music and limousines.
Grimaldo put such a package on layaway -- paying a little at a time over a year. With the help of friends and family, she was able to raise enough money to fund Jasmine's once-in-a-lifetime quinceañera.

Watch how they downsized »
Despite the help, Grimaldo said concessions still had to be made.
"Even just the place where I had it ... I would have chosen somewhere else, but with the economy the way it is," she said, her voice trailing off.
Atlanta, Georgia-based Realtor Amy Barocas can relate.
She and her husband are opting to combine their daughter and son's Bat and Bar Mitzvah celebrations into one big event to keep the budget under control. The events celebrate the Jewish religious ceremony marking the coming of age for a girl or boy.
Barocas is planning a casual catered affair for later this month instead of a formal sit-down event. She likened the strategy for the party to what she has seen in the real estate industry.
"You can take one of two routes," she said. "You can go the route where you spend more than you should, and we have seen that with the foreclosures, or you scale down and you make better choices that can still be equally as great."
Her children, Ivey and Harrison, are adjusting to the idea that they will have to share the spotlight on their big day, Barocas said.
"They do have to give up a little, but that's a part of family, making sacrifices when times are tough," she said.
The Barocas family is working with Contagious Entertainment of Atlanta, an event planning company whose owner, Carlos Romeo, said he is seeing more cost-conscious clients.
"They are really concerned with the money that they spend and how they spend it," he said. "A lot of clients right now are doing their events together and that saves a lot of money. They'll check and see if they have similar dates and you see cousins doing events together, friends doing events together, classmates doing events together."
Even those who can afford all of the trappings are altering their plans, said Corinne Dinsfriend, whose Over the Top Productions in Orange County, California, specializes in themed children's parties.
"People are being more sensitive about throwing parties and celebrations," she said. "There's still discretionary income out there, but our clients are not wanting to be as ostentatious."
"The guest list isn't as large," she added. "I guess you could say the 'Wow' factor isn't as intense just to be more sensitive to their friends and family who may be hurting in this economy."
The troubled financial markets, layoffs and foreclosures were far from the mind of young Jasmine Rocha as she glowed at her quinceañera in a long, full, pink ball gown embroidered with lace and beading.
As she reflected on the significance of the day, she thanked her mother for her sacrifices.

"I feel the love that my mom has put a lot of effort into this, and I appreciate her for doing that for me," Jasmine said, tears streaming down her face as her proud mother looked on.
For a parent, it was a priceless moment.
E-mail to a friend

All About National Economy