By John D. Sutter
CNN





(CNN) -- Sharin Newman Calderon has time to sell Girl Scout cookies.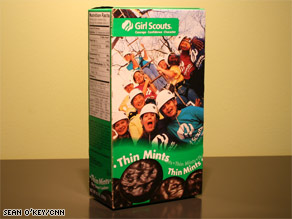 Girl scouts are busy, so their parents are peddling their all-American cookies in the office and online.
Her 7-year-old daughter, however, does not.
"My daughter has soccer, Hebrew school, karate," the 39-year-old working mother said. "She's busier than I am."
So, against the subtle recommendations from the global Girl Scouts organization, Newman Calderon -- and many parents like her -- made a choice: She would sell most of the cookies for her daughter, who then would take the credit.
In doing so, she would have to step into an ethically dangerous world.
She would have to become an office cookie pusher.
There is a flock of 3.7 million Girl Scouts and parents worldwide, according to the group's Web site, and those girls (and their parents) sell about 200 million boxes of cookies each year.
While some of those Scouts still trot door to door with sugary treats in tow, many are turning to less-direct sales pitches.
Some girls accompany their parents to the office for a captive audience. Others just give their parents a product sheet and pray their well-connected mothers and fathers are skilled enough at hawking the treats to earn them a prize.
Don't Miss
The ethics of all of these choices can be quite a brain-full. So, for help, CNN.com turned to some experts: office workers and Scout parents everywhere, many of whom first submitted their opinions through iReport, a user-submitted photo and video site powered by CNN. Give us your opinion on Thin Mints and office politics
Newman Calderon, who lives in Plainview, New York, said she doesn't like to lay on the hard sell at the office.
To avoid making coworkers feel pressured into buying cookies they might not want, she simply leaves a sign-up sheet in an office break room.
Everyone in her neighborhood knows a Girl Scout, and therefore has access to their troves of cookies. Her coworkers might not be so lucky, she said.
"Especially in this economy, I think it's better to be passive and provide a service," she said.
Making her daughter walk through the neighborhood to sell the cookies, which fund the activities of local Girl Scout troops and earn prizes for the girls, would be dangerous and ineffective, Newman Calderon said.
But to let her daughter get in on the action, Newman Calderon said she takes her to a local knitting shop.
"She can go in and she actually gets to walk around, wear her vest," she said.
The benefits of such sales exercises are up for debate among parents of Scouts. Newman Calderon said her daughter is plenty outgoing as it is, and doesn't gain much from having to sell cookies to adults.
Girl Scouts of the USA wants its Scouts to make the sales because the interactions boost their confidence and help them learn basic skills like making correct change, said Michelle Tompkins, spokeswoman for the group.
But, Tompkins said, the No. 1 priority for the Scouts is safety. Going door-to-door isn't safe for everyone, and while the organization recommends the girls market their cookies online, they shouldn't make the sales that way for safety reasons, she said.
So, some Scouts and parents have no choice but to sell in the office, which isn't always popular with coworkers, either because they don't want to be bothered at work or because they have a problem with parents making cookie sales to earn prizes for their daughters.
Hilary Ohm, a 51-year-old from Colville, Washington, said parents who sell products for their kids are just "boosting up their kids' egos."
Plus, cookies are fattening. If the kids made something to sell or sold healthy foods through farmers markets, Ohm said she would be more inclined to buy.
After hearing similar sentiments, some offices have created rules against charitable solicitations in the workplace.
Rich Black, a 56-year-old banker in Delaware, said he used to work in one such office. He hated the policy.
"What's next?" he asked. "We can't have charities on street corners because we don't know how to say 'No' there?"
He added: "If your social skills are at such a low level that you don't know how to say, 'Thank you but no thanks,' there's no set of rules on earth that are going to protect you from life's little bumps," he said.
Black, a father of three, also said kids aren't missing out on much if their parents do the cookie marketing for them.
"I don't think you're robbing the kids of an experience other than getting doors slammed in their face," he said.
Lisa Richardson, a 48-year-old Girl Scout troop leader from Chelsea, Michigan, said there's got to be an ethical middle ground when it comes to selling the cookies.
Like Newman Calderon, she leaves a sign-up sheet in her office at the University of Michigan.
She and her daughter split the work, with the daughter selling about a third of the 90 boxes of cookies.
If her daughter had sold 100 boxes of cookies, she would have won a hair comb, which Richardson said her daughter wants desperately.
Richardson said she hopes the efforts of other Scouts in the troop will bump her daughter over the comb-winning benchmark.
But if not, her daughter will know to work harder next time.
Richardson said it is unfortunate that kids are motivated by prizes to sell the cookies. It would be better, she said, if the fact that her Michigan troop is going to help orphaned animals pushed the girls and the parents to work harder.
But perhaps that's just the way of the world, she said.
Prizes and money are big motivators.
E-mail to a friend

All About Girl Scouts of the United States of America • Girl Scout Cookies • Parenting