By Alan Duke
CNN





(CNN) -- The company that brought the world Beanie Babies is now selling dolls named Sweet Sasha and Marvelous Malia, but a spokeswoman insists that the dolls have nothing to do with President Obama's young daughters.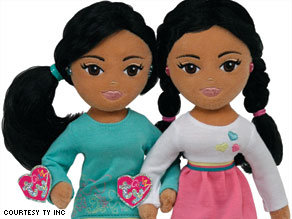 Ty, the maker of Beanie Babies, is introducing two new Ty Girlz dolls named Marvelous Malia and Sweet Sasha.
Although it would be a stretch to say the 12-inch-tall dolls bear a resemblance to the first family's Sasha, 7, and Malia, 10, they appear to be the only African-American dolls in the 30-doll Ty Girlz collection.
"We feel it is inappropriate to use young private citizens for marketing purposes," said first lady Michelle Obama's press secretary, Katie McCormick Lelyveld.
When CNN asked a Ty executive whether the Obama girls were the inspiration for the dolls, she hesitated several seconds before answering.
"Information concerning the development of our products and how we come up with names, how we select them, how we trademark -- that's considered as proprietary," Ty Senior Vice President of Sales Tania Lundeen said. "I can't go any further with that question."
Lundeen said "Sasha and Malia are beautiful names" that "worked very well with the dolls we were making."
"There's really nothing on either doll that refers to anything else that you may have read in the media today," she said.
Don't Miss
The dolls follow "the exact patterns" used for the other Ty Girlz dolls, "so we did not make the dolls to physically resemble either of the Obama girls," Lundeen said.
Sweet Sasha features long dark-brown hair in two ponytails, and Marvelous Malia has just one ponytail.
"Malia and Sasha are two adorable dolls, or Sweet Sasha and Marvelous Malia, forgive me," Lundeen said when describing them.
She said her company avoids naming dolls for "any particular living individual" because it might interfere with how kids use their imaginations to play with them.
"When children play, they play with the dolls how they wish, and we don't want to impose any preconceived ideas upon them by implying any further connection," she said.
Coincidence or not, the controversy has brought welcome traffic to Ty's Web site for children, Lundeen said.
"Since this release of news, we've had a lot of attention," she said.
The dolls sell for $9.99 each.
E-mail to a friend

All About Barack Obama • Sasha Obama • Malia Obama • Ty Beanie Babies