Editor's note: Clark Howard, the Atlanta-based host of a nationally syndicated radio show, hosts a new television show designed to help viewers save more, spend less and avoid getting ripped off during these tough economic times. The show airs Saturdays and Sundays at 6 a.m., noon and 4 p.m. ET.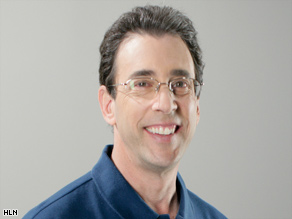 Clark Howard says don't give up saving for the future.
ATLANTA, Georgia (CNN) -- I have been very worried about published reports that people of all ages are losing faith in saving for retirement.
The easiest way for most of us to save for the future is in a 401(k) or 403(b) plan at work. That way, saving becomes automatic, and many times, we will have free money come our way in a match from our boss -- though some companies are cutting back or eliminating the match.
But the last year or so has only made people feel foolish about putting money into retirement plans as accounts have vanished right before our eyes in a catastrophic plunge virtually without historic precedent.
If you started 2008 with your retirement money spread among stock funds, you began 2009 with roughly only 60 percent of your money left. It can make you say forget it, or put your money into "safe" choices inside your retirement plan. I can tell because my callers are shell-shocked and are either stopping contributions or looking for a way to not risk any more. Both are big mistakes.
Don't Miss
I know this will feel and sound weird, but especially for those under age 40, this is the greatest opportunity for you to build long-term wealth that you will possibly have.
Remember that you have decades for your dough to grow. And the fact that stocks are way down right now means that each dollar you put in a retirement plan buys you more shares of whatever stock mutual fund or index fund you buy.
Remember this: Each share in a mutual fund has a daily value that is set from the rise or fall of the stocks in that fund. Since the market is down by such a huge amount, you end up owning more shares each pay period. It is the equivalent of buying stuff in a store on clearance or deep discount sale. That discount is the reason that you can make so much more over the years.
If you are much over 40, you are probably not going to have the huge long-term upside that those under 40 have, but you can recover over time just by staying in the game.
MONEY EXPERT
Clark Howard offers a roadmap to financial stability every weekend.
Saturdays and Sundays at noon and 4 p.m. ET on HLN

I hear from a lot of people that they want to wait until things aren't so scary. And let's face it, things are bad. Unemployment is rising, foreclosures are everywhere, businesses are failing and the government has a rescue plan a day.
But if you wait until the fear fades and things start to get better, you're likely to miss the best gains from investments. That is because stocks start doing better months before we realize things are improving in the economy.
If you listen to me and take a chill pill, it doesn't mean that you won't put in money each pay period this year and won't see your account continue to fall in value. Nobody knows in the short term which way stocks will go.
As to what to put your money into, you can make it as simple or as hard as you wish. If you want it extra simple, most plans offer a target retirement fund. You pick the year closest to your likely retirement date and put all your money in that fund. As an example, if you are 35 and you expect to retire when you are 65, you could put all your money into target year 2035 or 2040.
The operator of the target fund puts most of your money in stocks when you are far from your target year and makes the investments steadily more conservative or "safer" as you get closer to your target.
If that is too simple for you, I love spreading my money out in index funds. An index fund is an investment that owns hundreds or thousands of stocks of a particular type. The most well-known is the 500 fund, which owns little pieces of the 500 largest companies in America.
My favorite is the total stock market index. In it, you own little pieces of most publicly traded companies. I also like to put money in an international index fund. These will usually own pieces of big companies in Europe, Japan, Australia and other countries. This is important because more than half of worldwide capitalism is outside the United States.
You should also own a corporate bond fund, which makes you like a bank lending money to companies. You could build a well-spread-out investment plan with just these three things -- a 500 or total stock market index for half your money, an international index and the bond fund, each with 25% of your contributions.
If you really like to research funds and get into it in a big way, and if your 401(k) has more options, you can build a portfolio that is much more involved with value or growth, emerging market choices and commodities.
Above all, don't give up saving for your future.
The opinions expressed in this commentary are solely those of Clark Howard.
E-mail to a friend

All About Financial Markets • Mutual Funds • Personal Finance