Editor's note: All this week CNN.com is running excerpts from CNN chief business correspondent Ali Velshi's new book,"Gimme My Money Back: Your Guide to Beating the Financial Crisis,"published by Sterling & Ross. This is the final excerpt in the five-part series.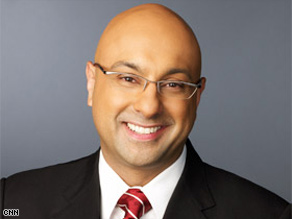 Ali Velshi is CNN's chief business correspondent and host of "Your $$$$$," CNN's weekend business roundtable.
Chances are your attitude toward retirement will be shaped by your age. In your 20s and 30s, the concept is likely to seem remote, something you know about but needn't pay much attention to. In your 40s, the idea probably starts to carry more weight. By your 50s, I'm told, retirement starts to seem like something pleasant that might actually happen to you.
But then, for too many people, retirement recedes like a horizon. As you draw closer, it moves farther away. You reach the age that should have been the starting line, but the comfortable years they talked about on TV are nowhere to be found. What happened?
There's no mystery. The retirement we'll have is a function of how well we've planned for it. If you leave it to chance, you might as well forget about it. So it's time to start thinking about it now.
I'm not suggesting you send away for brochures on assisted-living facilities, but I am saying you should start to consider some of the issues that will be important to you. Have an investment question? Ask Ali
Ask Ali Velshi
Have a question about your money? CNN chief business correspondent Ali Velshi has the answers every day this week on CNN Radio. Call him at (877) 266-4189 or e-mail cnnradio@cnn.com.
Weekdays, 1 to 2 p.m. ET

Here are a few pointers that can help as you begin to think about your eventual retirement.
1. Save as much as you can as early as you can.
Though it's never too late to start, the sooner you begin saving, the more time your money has to grow. Gains each year build on the prior year's -- that's the power of compounding, and the best way to accumulate wealth. At CNNMoney.com, you can find calculators that will let you see how quickly compounded money will grow.
2. Set realistic goals.
Project your retirement expenses based on your needs, not what somebody else thinks. Be honest about how you want to live in retirement and how much it will cost. Then calculate how much you'll have to save to supplement Social Security and other sources of retirement income.

Is gold a good investment? »

One rule of thumb is that you'll need 80 percent of your annual pre-retirement income to live comfortably. That might be enough if you've paid off your mortgage and are in excellent health when you kiss the office goodbye.
But if you plan to build your dream house, trot around the globe or get that Ph.D. in philosophy you've always wanted, you may need 100 percent of your income or more. Again, the calculators at CNNMoney.com can show you how much you'll have to accumulate in order to live as you choose in retirement.
Don't Miss
Remember, too, that your health-care expenses are likely to go up in retirement, if only because you'll be paying more for insurance.
3. Tax advantaged accounts represent an excellent way to save for retirement.
As we discussed early on, money contributed to a 401(k) grows tax-deferred. You don't pay taxes on it until you withdraw it. And Individual Retirement Accounts (IRAs), which come in a variety of flavors, also shelter your investment money while it grows.
A 401(k), offered by your employer, is likely to have fewer investment choices than an IRA. On the other hand, your employer will often match a portion of your contribution. It's a great deal.

An IRA has very few restrictions on the investments you can own. If you can afford it, it's a good idea to supplement a 401(k) with an IRA. The opportunity for compound, tax-deferred growth is a gift.
Regular contributions to either of these plans, plus time to let them grow, is likely to give you the money to enjoy a healthy and happy retirement for many years.

You can see all 10 tips for retirement in Ali Velshi's new book,"Gimme My Money Back."
E-mail to a friend