Editor's note: All this week CNN.com is running excerpts from CNN chief business correspondent Ali Velshi's new book,"Gimme My Money Back: Your Guide to Beating the Financial Crisis,"published by Sterling & Ross. This is the fourth excerpt in the five-part series.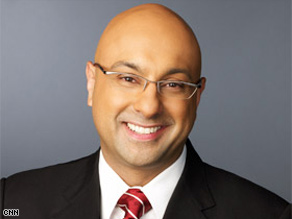 Ali Velshi is CNN's chief business correspondent and host of "Your $$$$$," CNN's weekend business roundtable.
You wouldn't build a house without a blueprint (not if you expected it to stay up). And you wouldn't take a cross-country road trip without a map. Anything worth doing is worth planning. Your financial future is no exception.
No matter how smart you are, you couldn't possibly expect to succeed at a game you'd never played unless you at least knew the rules. You'd want to know the strategies. You'd want to understand the tools. You'd want to see how the little moves add up to the big picture.
It's the same with investing. There are certain principles that determine investment performance. They describe the way that different market elements interact with one another, the way they work together over time. Understand them, and you're on the way to success.
Ask Ali Velshi
Have a question about your money? CNN chief business correspondent Ali Velshi has the answers every day this week on CNN Radio. Call him at (877) 266-4189 or e-mail cnnradio@cnn.com.
Weekdays, 1 to 2 p.m. ET

These principles can help you construct your portfolio, make your decisions and measure your investment performance against objective standards. Have an investment question? Ask Ali
The first thing to know is that, historically, markets rise over time. Markets move in cycles: they go up, they go down, they go up again. Picture a mountain peak, a valley and then another mountain peak -- that's a market cycle. At the end, the new peak is higher than the last one.
So even when we're in a deep trough (a recession), we should have faith in the market's ultimate recovery. Because that's what the market has done over and over and over again.
As I write this book, the market is down quite a bit from the all-time high it reached in 2007. Am I worried about the money I invested? Not really. I've made a long-term commitment to my investment plan. Despite the current turbulence, I haven't changed it one bit. I know that the market will recover and that my investments will grow.

Get Ali's tips for rebuilding wealth in rough economy »
Don't Miss
That's not to say I enjoy seeing markets fall -- I don't. But I recognize that there are good times and bad times. Our country, our world, isn't going away.
The energy of the 6 billion people on our planet will propel us forward. If you stand back far enough and look at market results for the past 80 years, you'd see an almost unbroken line of progress. It's the short term that gives people the jitters.

But the cure for fear is knowledge. So one of my goals is to help you understand the principles that describe how the markets behave.
In tomorrow's final excerpt, we'll talk about kicking back in retirement.
E-mail to a friend