Editor's note: All this week CNN.com is running excerpts from CNN chief business correspondent Ali Velshi's new book,"Gimme My Money Back: Your Guide to Beating the Financial Crisis,"published by Sterling & Ross. This is the third excerpt in the five-part series.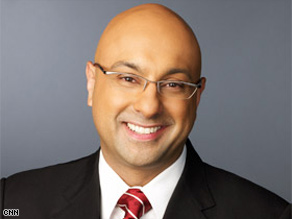 Ali Velshi is CNN's chief business correspondent and host of "Your $$$$$," CNN's weekend business roundtable.
If you're a NASCAR driver, you can't afford to be leaking fuel on the track. You won't be able to get the power you need. You won't be able to drive as far. You'll have to keep pulling over for more gas while your competitors accelerate around the track.
It's the same with debt and your financial future. You can't cruise smoothly to where you want to go if you're "leaking" money.
So before you can build your future, you have to make sure you're not weighed down by the past. You've got to get out of debt, because you need all your resources focused on going forward.
Not all debt is bad, however. Most homeowners, for example, have a mortgage. A mortgage means you can live in your house even though the bank, and not you, owns part of it.
A mortgage gives you tax benefits as well. And a mortgage gives you the luxury of not having to pay for your house all at once; so you can take the money you would have had to pay and invest it for a higher rate of return than the rate of interest you're paying on your mortgage. Have an investment question? Ask Ali
Ask Ali Velshi
Have a question about your money? CNN chief business correspondent Ali Velshi has the answers every day this week on CNN Radio. Call him at (877) 266-4189 or e-mail cnnradio@cnn.com.
Weekdays, 1 to 2 p.m. ET

Say your mortgage costs you $600 a month. Take another $50 a month and save it. That's $600 a year.
If you invested that $600 over 30 years, the life of the typical mortgage, at an annual compound rate of 10 percent, you'd have $113,966.27. At the same time, you'd be living in the house and, most likely, watching its value grow over time. So, it's pretty clear that a mortgage is a good kind of debt to have, as long as you can comfortably afford the payments.

At the other end of the spectrum, there's credit card debt.
Most of us have credit cards, of course, and many of us carry a balance on them. In fact, in 2008, 75 percent of U.S. households had credit cards -- the average adult had nine of them -- and 40 percent of those cardholders carry a balance. It seems to be a normal thing to do.

Get Ali's advice on credit card debt »
Don't Miss
But it's really a bad idea. Credit card debt is extremely expensive. Interest rates range up to 30 percent a year. That means for every $1,000 you carry on your balance, the credit card company could be charging you $300 each year.
That $300 can mean a lot of things -- a decent TV, a car payment or new clothes for the kids. Or you could invest that $300, so it would make more money for you. The one thing none of us should do is take that hard-earned money and send it to the credit card companies just for letting us spend more than we can afford. Quiz: Are you a risk taker?

If I could give you just six words of advice, they'd be "pay off your credit card debt." If I could add one more word, it would be "now."
In tomorrow's excerpt, we'll reveal some of the key principles to financial success through investments.
E-mail to a friend