By Ali Velshi
CNN Chief Business Correspondent






Editor's note: All this week CNN.com is running excerpts from CNN chief business correspondent Ali Velshi's new book,"Gimme My Money Back: Your Guide to Beating the Financial Crisis,"published by Sterling & Ross. This is the first excerpt in the five-part series.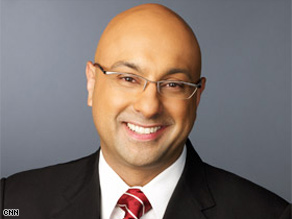 Ali Velshi is CNN's chief business correspondent and host of "Your $$$$$," CNN's weekend business roundtable.
You've probably heard so much about mutual funds that even if you don't own any, it's likely that you know what they are and how they work. But just to clear up any misconceptions and to make sure we're all starting on the same page, let's quickly go over a few of the basics.
A mutual fund pools money from hundreds and thousands of investors to construct a portfolio of stocks, bonds, real estate, or other securities, according to its charter. Each investor in the fund gets a slice of the total pie. One unit of the mutual fund provides a piece of every holding within the fund.
Whereas $100 might get you 10 shares of a particular stock, $100 invested in a stock mutual fund will give you a smaller share in the 20 or more stocks that the fund invests in. In this way, a mutual fund provides ready-made diversification for each dollar invested. Most funds require only moderate minimum investments, from a few hundred to a few thousand dollars, so you can construct a diversified portfolio much more cheaply than you could on your own.
There are a dizzying number of mutual funds in every conceivable asset class: stocks, bonds, money markets, commodities, real estate and more. Have an investment question? Ask Ali
Ask Ali Velshi
All this week on "American Morning," CNN chief business correspondent Ali Velshi answers your financial questions.
Weekdays starting at 6 a.m.

In stocks alone, there are growth funds, which buy shares of expanding companies; sector funds, which buy shares of companies in a particular sector, such as technology or health care; and index funds, which buy shares of every stock in a particular index, such as the S&P 500. Quiz: Are you a risk taker?
That's also the case with bond funds. They exist in every segment of the bond market. If you want safe investments, consider government bond funds; if you're willing to gamble on high-risk investments, try high-yield bond funds, also known as junk bond funds; and if you want to keep down your tax bill, try municipal bond funds.

In tomorrow's excerpt we'll talk about good debt versus bad debt and the best way to get your financial house in order.
E-mail to a friend