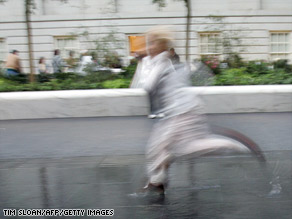 The 5-year-olds with impulsivity problems had a 25 percent increased risk of a gambling addiction later.
Overview:
Is your kindergartner easily distracted? Maybe a little hyper? This might seem like typical child behavior but a new study published in the March 2009 issue of the Archives of Pediatrics and Adolescent Medicine suggests it could be a red flag for a potential gambling addiction as he or she ages.
Questions and answers
Can you really spot an addictive personality in a 5-year-old?
Dr. Sanjay Gupta, CNN Chief Medical Correspondent: This study does show a link between impulsive behavior in young kids and gambling. This type of behavior in kids has long been linked to other high risks such a substance abuse, antisocial disorders, dropping out of school. And now researchers believe gambling can be adding to this list of risks.
What are the symptoms of impulsive behavior?
Gupta: In this study, researchers from the Université de Montréal and the Saint-Justine University Research Center had teachers track the behaviors of the kids during school hours. The "impulsive behaviors" they were graded on were their distractibility, hyperactivity and inattentiveness.
What were the results of the study?
Gupta: Teachers were required to list whether the kindergartner experienced these symptoms "often," "sometimes," "not at all." Six years after this initial test, they followed back up with these kids. Turns out the students who had impulsive behavioral problems back in kindergarten were the same kids who were beginning to gamble by the sixth grade. These kids were playing cards for money, placing bets on sports games, among other activities.
Study suggests that although this behavior is seemingly innocent now, the teen is likely to have an addiction problem as an adult. Overall, the 5-year-olds with impulsivity problems had a 25 percent increased risk of a gambling addiction later in life.

If a parent notices that a kindergartner displays impulsive behavior, is there anything he or she can do to prevent a potential problem late in life?
Gupta: Yes, there are some practical exercises you can do with your child to help him or her overcome certain behavioral vulnerabilities. The best age to do this is between age 3 and 6 years old. The brain is growing and molding at this stage in life, particularly the frontal lobe, which is responsible for cognitive behaviors.
Researchers suggest teaching your kids to "stop, look and listen." These three worlds may seem pretty simple but experts say teaching your child to focus on his or her environment, observe surroundings and listen intently to all conversations can help control impulsive behavior. Parents can make a game of it -- practice "focusing" while in the back yard playing. Have your child listen to the sounds of nature and name them for you, search for five different colors outside. This type of interaction will help teach focusing and attentive skills. The bottom line when teaching your child good behavior skills is to lead by example. Children will pick up many habits simply from watching you -- so pay attention when people are talking, don't interrupt, stay focused when working on a project and remain mild-mannered when reacting to a situation.
E-mail to a friend


Background
We spoke to Elizabeth George from the American Academy of Health Care Providers in the addictive disorders section, to get more insight on adolescent gambling. Here are some notes from our interview:

CNN: Is gambling addiction a problem among America's youth?

Elizabeth George: Gambling has become increasingly popular in the United States among teens. There is really no educational message given about the problems associated with gambling. There are casino nights in school, kids think it won't hurt them. You never hear of a cocktail night in high school, right? Why isn't the school sanctioning that? The consequences are severe. In a way, it [gambling addiction] is very much like alcoholism. Gambling can destroy lives and families.

CNN: Why do kids like to gamble?

George: I think the key part is the power of the win. How good does it feel when they pull out your name? It feels so good -- kids crowd around you, everybody wants to be near you. The power to win when you're a kid is amazing. It could be only $5, something relatively small but feeling that win and the feeling that people are paying attention to me is something kids love. Other reasons kids are gambling are because the kids are following in their parents' footsteps or all their friends are doing it.

CNN: What are some of the red flags parents should look out for if they think their teen has a gambling problem?

George:

• Money missing from parents or siblings

• Selling of prized possessions and not being able to account for the money

• Repeatedly having things "lost" or "stolen" so parents will give them money to replace

• Marked decrease in favorite activities with no explanation

• Behavior changes or changes in grades that are not explained

• Evasive answers about where they have been

Reported by CNN's Danielle Dellorto