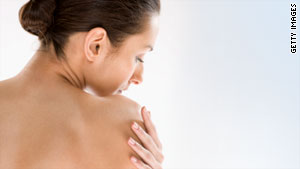 Breast cancer experts point out that a woman's prognosis is not necessarily worse if she has cancer in both breasts
STORY HIGHLIGHTS
Teresa Heinz revealed that she has been diagnosed with early-stage cancer in both breasts

Only about 2 to 5 percent of all breast cancer cases occur in both breasts simultaneously

Tumors can be of different severity and/or type in each breast

Expert: Prognosis depends on the side with the most aggressive type of cancer

(Health.com) -- The recent revelation by Teresa Heinz, wife of U.S. Senator John Kerry, that she has been diagnosed with early-stage cancer in both of her breasts has likely left many women wondering, "Could this happen to me?"
It could, but it's unlikely. Only about 2 percent to 5 percent of all breast cancer cases occur in both breasts at the same time, experts say.
"[It's] not unheard of, because whatever causes breast cancer on one side can act on both breasts," says Nayana Dekhne, M.D., the director of the Comprehensive Breast Care Program at William Beaumont Hospital in Royal Oak, Michigan.
Even if you are one of the few women to experience this type of breast cancer, the scenario isn't always as dire as it sounds. Breast cancer experts are quick to point out that a woman's prognosis is not necessarily worse if she has breast cancer in both breasts, and that the outcomes in such cases are often excellent.
Health.com: What keeps your breasts healthy
"You are not going to do worse because you have breast cancer in both breasts instead of one," says Marisa Weiss, M.D., the director of breast radiation oncology and breast health outreach at Lankenau Hospital in Wynnewood, Pennsylvania. "Your prognosis depends on the side with the most aggressive type of cancer."
You are not going to do worse because you have breast cancer in both breasts instead of one.
--Marisa Weiss, M.D.
Women can have tumors of different severity -- and even different types of tumors -- in each breast, Weiss says. "If you have breast cancers in both breasts at same time, we stage them independently," she says. "One side can be stage 0 and the other side can be stage 1, or really any variation of the stages of breast cancer." (Stages describe the extent of the cancer; stage 0 is considered non-invasive, while stage 4 is considered late-stage or invasive.)
In some cases, the severity of the tumors dictates a different treatment for each breast. A woman may opt to have one breast removed, for example, and then undergo a lumpectomy and radiation therapy on the other.
Health.com: How to take care of yourself after breast cancer surgery
Heinz, 71, the widow of ketchup scion John Heinz (who was also a senator), was diagnosed with a different type of stage 1 cancer in each breast. "I have had two operations and my prognosis for a full recovery is good," she wrote in a December 24 op-ed piece that appeared in the Pittsburgh Post-Gazette.
Health.com: How we're winning the war on breast cancer
Heinz received her diagnosis in September. Last week she decided to go public with the news to challenge the recent highly controversial recommendation by a federal advisory panel, the U.S. Preventive Services Task Force, that women of average-risk for breast cancer should begin annual mammograms at age 50 instead of age 40, and should have mammograms every other year thereafter. Heinz's cancer was first detected during a routine mammogram.
Mammograms (x-rays of the breast) capture images of both breasts and then compare one side to the other. "If we find a lump or abnormality on your mammogram, we always look at both sides," says Weiss, who is also the president and founder of the advocacy group Breastcancer.org and the author of "Living Beyond Breast Cancer." (Like the other physicians interviewed, Weiss has not treated Heinz.)
A mammogram will often find breast cancer in one breast and then a breast magnetic resonance imaging (MRI), which is done as a follow-up and can be more sensitive than a mammogram, may show an unexpected cancer in the other side. "If you are diagnosed with breast cancer in one breast, you want them to make sure that they are careful and check out both sides, because there is a human tendency to focus on what you find and not look for anything else," says Weiss.
Health.com: 'I stayed in control of my breast cancer treatment'
Cancer in both breasts at the same time -- which is officially known as "synchronous bilateral" breast cancer -- is more common among women who have the so-called BRCA mutations in the breast cancer genes and among women with a strong family history of breast cancer.
And when cancer occurs in both breasts simultaneously, it is more likely to be lobular breast cancer, which begins in the milk-producing glands (lobules) of the breast, says Lydia Usha, M.D., a breast cancer oncologist at Rush University Medical Center in Chicago. Lobular breast cancer is relatively rare to begin with, Usha says.
Although each breast may require a different treatment strategy, the overall treatment for breast cancer in both breasts is no different than for cancer that occurs in just one breast.
Health.com: Drugs help prevent breast cancer but pose risks too
"The treatment does not change," says Usha. "We treat according to the more advanced breast cancer. If the cancer has not spread to your organs, the prognosis is good."
A woman's age also plays a role in how aggressively physicians treat bilateral breast cancer, says Dekhne. "If a younger woman is diagnosed with breast cancer in both breasts, we would recommend that she undergo testing for the breast cancer genes and we would treat the cancers more aggressively in young women who test positive for these genes," she says. "In women like Heinz-Kerry in their 70s, we wouldn't focus on the genetic component; we would treat the cancer based on its stage."
Heinz had a lumpectomy performed on each her breasts in October and again in November, according to a recent interview she gave to the Associated Press.
In January 2010, she says, she will undergo five days of radiation treatments, which are expected to increase the likelihood of successful treatment to 95 percent.
Copyright Health Magazine 2011