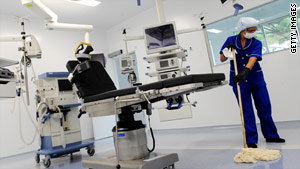 Using disinfectants could lead to antibiotic resistance, according to new research.
STORY HIGHLIGHTS
Research links use of disinfectants with antibiotic resistance
Bacteria became immune to antibiotic they had never been exposed to
Study author says it's essential that disinfectants are used at the right concentration
London, England (CNN) -- A new study has provided more evidence that using common disinfectants could promote the growth of antibiotic-resistant superbugs.
Antibiotic resistance is considered a major health issue. Overuse of antibiotics is known to give rise to antibiotic resistance, but disinfectants could produce the same effect, according to research by the National University of Ireland, published in the January 2010 issue of the journal "Microbiology."
Researchers grew a bacteria associated with hospital-acquired infections in the presence of a common disinfectant and found that the bacteria became 12 times less susceptible to the disinfectant.
But they also found that the same bacteria became 256 times more resistant to a widely used antibiotic -- ciprofloxacin -- even though the bacteria had never been exposed to it.
Lead researcher Gerard Fleming told CNN that it was "a worrying finding, especially in critical care areas."
He said that the bacteria had adapted to pump out both the disinfectant and antibiotic from their cells, as well as showing a DNA mutation that made them resistant to ciprofloxacin-type antibiotics.
The researchers also found that the resistant strain outgrew the non-resistant strain in the presence of low levels of disinfectant. Fleming said it meant that residue from overly diluted disinfectants left on hospital surfaces might promote the growth of antibiotic-resistant bacteria.
"This is really worrying," Fleming told CNN. "Where you've got residual levels of low concentrations of disinfectant and the resistant organisms are present, they become dominant in the environment."
George Allen, from Oregon Health and Science University in the United States, told CNN that other studies have linked the use of disinfectants to antibiotic resistance, although some have produced conflicting results.
"There's a lot of discussion as to which disinfectants should be used in hospitals," Allen told CNN. "The most immediate concern would be resistance to a particular disinfectant, but these investigators showed the use of a disinfectant caused resistance to an antibiotic.
"It's these more unexpected effects that a disinfectant can have on existing antibiotics that I would say is the more serious long-term consequence."
The bacteria tested, Pseudomonas aeruginosa, is a known threat for people with an impaired immune system, and is a major problem in burns units, according to Fleming. He said that the disinfectant used in the study, benzalkonium chloride, is found in many commercial and hospital preparations.
Fleming told CNN that disinfectants are an essential first line of defense to prevent the spread of bacteria in hospitals, with antibiotics the second line of defense, to be used against bacteria that survive the disinfectant and infect patients. By creating cross-resistance, there was a risk of losing both defenses, he said.
"I'm not saying don't use disinfectants," he said. "They have to be used in hospitals and food preparation areas."
"But it is essential that they are used at the correct concentration," he continued.
Fleming added that when using disinfectants at home, it is essential to leave them on a surface for long enough for them to kill bacteria, and to vary the disinfectants used, to prevent organisms from becoming less susceptible to the disinfectant.