Scientists unlock genetic code in major cancer breakthrough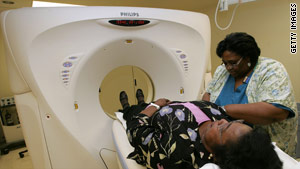 Scientists believe the genetic maps will revolutionzie the way doctors treat cancer.
STORY HIGHLIGHTS
Scientists have mapped the genetic codes of lung and skin cancer
The study will help in the treatment and discovery of deadly tumors
10 other countries are involved in similar studies around the world
Cancer claims more than seven million lives each year worldwide
London, England (CNN) -- The entire genetic codes of two common types of cancer have been cracked, according to scientists, who say the breakthrough could unlock a new era in the treatment of deadly diseases.
Scientists at the UK-based Wellcome Trust Sanger Institute catalogued the genetic maps of skin and lung cancer and have pinpointed the specific mutations within DNA that can lead to dangerous tumors.
Researchers predict these maps will offer patients a personalized treatment option that ranges from earlier detection to the types of medication used to treat cancer.
The genetic maps will also allow cancer researchers to study cells with defective DNA and produce more powerful drugs to fight the errors, according to the the study's scientists.
"The knowledge we extract over the next few years will have major implications for treatment," Peter Campbell from the Wellcome Trust Sanger Institute said.
"By identifying all the cancer genes we will be able to develop new drugs that target the specific mutated genes and work out which patients will benefit from these novel treatments."
Scientists found that the DNA code for skin cancer contained nearly 30,000 errors and lung cancer DNA contained more than 23,000.
"These are the two main cancers in the developed world for which we know the primary exposure," Mike Stratton, from the Cancer Genome Project said.
"For lung cancer, it is cigarette smoke and for malignant melanoma it is exposure to sunlight.
"With these genome sequences, we have been able to explore deep into the past of each tumor, uncovering with remarkable clarity the imprints of these environmental mutagens on DNA, which occurred years before the tumor became apparent."
The study suggests that an error occurs for every 15 cigarettes that are smoked.
Scientists as part of the International Cancer Genome Consortium in other countries around the world are completing similar studies -- the UK is looking at breast cancer, the U.S. at brain, ovary and pancreatic cancer, and Japan at the liver.
Cancer is a leading cause of death worldwide and claims more than seven million lives each year according to the World Health Organization.