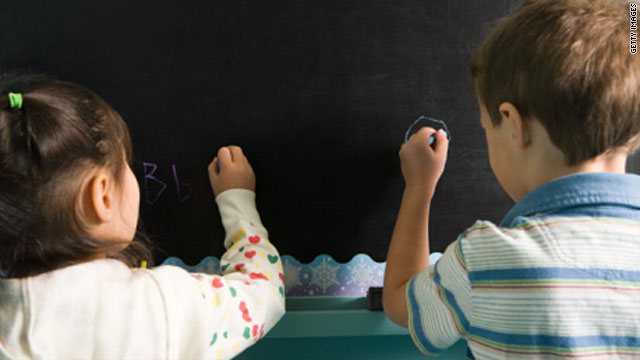 STORY HIGHLIGHTS
CDC: One child in 110 had autism in 2006, a jump of 57 percent from 2002

One in 70 boys were diagnosed with disorder, compared with one in 315 girls

Experts: More awareness of symptoms needed so children can be diagnosed earlier

Earlier intervention means more malleable behavior patterns, experts say
ATLANTA, Georgia (CNN) -- A new report published by the Centers for Disease Control and Prevention finds that one in 110 children in the United States had autism in 2006.
"The average prevalence of autism among 8-year-olds increased by 57 percent," according to Catherine Rice, lead author of the report and a behavioral health scientist at the CDC's National Center on Birth Defects and Developmental Disabilities.
The research shows that boys still outnumber girls in autism prevalence. One in 70 boys were diagnosed with the disorder, compared with one in 315 girls. However, girls diagnosed with autism often have more severe symptoms.
To better understand the prevalence of autism, the CDC reviewed the records of children diagnosed with autism from physicians and schools in 11 sites across the country that are part of the Autism and Developmental Disabilities Monitoring Network.
The new report tracks autism prevalence among 8-year-olds from 2006 in 11 states and compares it with data collected at 14 monitoring sites in 2002, when the prevalence of autism averaged 1 in 150 children. Ten of these sites are represented in both reports.
Geri Dawson, chief science officer for the advocacy group Autism Speaks, said this report validates early estimates of how many children are affected by autism.
"We now have firm evidence that autism spectrum disorders affect a staggering 1 percent of children, and this increase cannot be fully accounted for by broader diagnosis or earlier diagnosis."
"Autism spectrum disorder" is an umbrella term for three types of neurological disorders that can lead to significant social, communication and behavioral challenges. According to the CDC, those are autistic disorder, or classic autism, and the two milder forms: Asperger's syndrome and atypical autism called Pervasive Developmental Disorder - Not Otherwise Specified.
"I was surprised by the increase [in prevalence]," Dr. Gary Goldstein said. Goldstein is president and CEO of the Kennedy Krieger Institute in Baltimore, Maryland.
"Nine of the 10 sites had an increase; nobody had a decrease," Goldstein added.
The Kennedy Krieger Institute provides therapies and services for children with autism and conducts research to find the causes of autism spectrum disorders. The institute also works with Autism Speaks.
We now have firm evidence that autism spectrum disorders affects a staggering 1 percent of children.
--Geri Dawson, Autism Speaks
Not all experts are convinced that there is a surge in autism cases. Dr. Max Wiznitzer, a pediatric neurologist at Rainbow Babies & Children's Hospital in Cleveland, Ohio, believes that some children may be given the autism label without meeting the actual case definition for the disorder.
He points to a part in the report that said 54 percent of children were confirmed as meeting the autism spectrum disorder case definition, which means almost half did not. "This suggests that overdiagnosis is occurring in the population," Wiznitzer said.
The CDC report also found a slight improvement in when children were diagnosed with the disorder. The average age of diagnosis was 4½ years, a five-month improvement from 2002. But that's too late, according to some experts.
"The other shocker for me is how little the age of diagnosis changed," Goldstein said. "What didn't change was the average age of parental concern."
Rice says the new CDC report found that in most cases, parents had concerns before their children were 2 years old, and yet children weren't getting the official diagnosis until more than three years later. The longer it takes for a child to get diagnosed with autism, the more the start of therapy is delayed.
"That is still too late," Wiznitzer said. He added that he would consider a diagnosis between 4 and 5 years a "late diagnosis" in his practice. "We need to do a better job of identifying children earlier on."
Goldstein agrees. He says that to diagnose "at 53 months [4½ years] is too late to get into early intervention. We know that we can diagnose at 24 months, and we know early intervention works."

Video: CDC releases autism numbers

Video: Autism: A journey of recovery
Researchers say that the younger a child's brain is, the more malleable it is, making it easier to help the child avoid long-term developmental disabilities with the help of therapy. If children don't start therapy until they are 4 or 5 years old, it is much harder to change their behavioral problems.
Watch one autism success story
Wiznitzer notes that CDC surveillance that three-quarters of children with autism were diagnosed by their health care providers.
"This means about 25 percent fell through the cracks at the doctor's office," he explained. However, he said, the report shows that schools are doing a better job of recognizing autistic behavior.
The CDC's Rice said "there's still quite a gap" and agrees that this is one of the big implications of this report. She says that more awareness of symptoms of autism is needed so children can be diagnosed at an earlier age.
She points out that the CDC and the American Academy of Pediatrics provide information on what parents should look for.
Rice added that the pediatric group recommends that pediatricians screen all children for autism when they are 18 months and 24 months old.
Autism Speaks goes one step further and shows parents how a typically developed child behaves, compared with a child with autism. They can see videos on the Autism Speaks Web site.
Autism Speaks' Dawson said the new CDC report highlights a public health crisis.
She points to a Harvard study estimating that $35 billion is spent each year to care for people with autism, yet the government spent only $282 million this year on autism research -- a figure she says was higher than in 2008 in part because of funds from the federal stimulus.
Dawson said that in addition to research, there's a dire need for services. "There are 750,000 children with ASD [in the United States]. We need services that can provide early diagnosis, early intervention, educational services. The need for research and services is great, and we're really asking the federal government to step up to the plate and address this public health crisis."
Goldstein says there's another component to getting a better handle on what causes autism: Parents and families need to participate in research.
He uses cancer as a model. He said that if a child is diagnosed with cancer, about 95 percent of those children participate in clinical trials, which has yielded good results.
"The best example is leukemia," he said, which has led to many children now being cured of this cancer. "In autism, it's really unusual for families to participate in research."
Goldstein estimates that 5 percent of families with children with autism participate in research.
This new prevalence report does not address the causes of autism. However, studies are looking into environmental factors that may trigger autism in those who are genetically prone to the disorder.