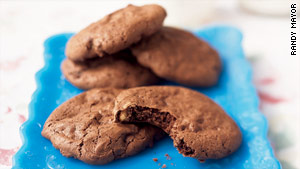 One of the challenges in remaking mudslide cookies was trimming the chocolate while maintaining rich flavor.
STORY HIGHLIGHTS
Author's husband was looking for a way to make his favorite cookies lighter

To keep chocolate flavor, substitute half cup of fat-free unsweetened cocoa

Each cookie has 142 calories instead of 294


(CookingLight.com ) -- Holidays often mean cookies -- and calories. Here's a way to keep the flavor but trim some of the fat in one tasty treat.
The Cooking Light Reader: Ben Downie, M.D., 26, Birmingham, Alabama
The Recipe: Mudslide Cookies
The Story: In the interest of full disclosure, Ben is my husband. During our courtship, I wooed him with dinners of roast duck and potatoes, Korean-spiced pork with noodles, and spicy chorizo chili (all Cooking Light winners).
But Ben also has a sweet tooth, and when he tried these brownielike cookies, he enjoyed them so much he asked his friend for the recipe. As a new doctor, he doesn't have much time to bake, so he passed the recipe to me, a confirmed chocoholic.
More Recipe Makeovers from Cooking Light
The Dilemma: Both of us are avid runners, and since I'm a dietitian and because of Ben's profession, we both watch what we eat. We couldn't help noticing the recipe had copious amounts of butter, eggs, and chocolate, which made us suspect the cookies had plenty of calories and fat.
"Seven eggs, half a cup of butter, more than 13 ounces of chocolate -- wow, no wonder they're so rich," Ben noted. We both wanted a lighter cookie so we could enjoy them more often. And since light baking is such a delicate science, I brought the recipe in to the Cooking Light Test Kitchens for help.
CookingLight.com: Eat Smart video page
The Solution: A team of Cooking Light food editors and Test Kitchens professionals found our biggest challenge was trimming the chocolate while still maintaining the cookies' rich flavor. We cut the original's seven ounces of unsweetened chocolate and six ounces of bittersweet chocolate back to two ounces of each, which trimmed 52 calories per cookie.
To boost the overall chocolate flavor, we added a half-cup of fat-free unsweetened cocoa. And instead of the original's 1 1/2 cups of bittersweet chocolate chips, we used 1/4 cup semisweet chocolate minichips to save another 33 calories per serving; minichips are better dispersed throughout the cookies.

Video: Cookies are an easy treat
The original's half-cup of butter added 27 calories and three grams of fat per cookie. Using 1 1/2 tablespoons of butter saved 22 calories and 2.4 grams of fat. We also replaced the original's seven eggs with two eggs and 1/2 cup egg substitute to slash the cholesterol by 35 milligrams per cookie.
Finally, we used 1/2 cup of walnuts instead of the two cups called for in the original recipe. Walnuts provide heart-healthy fat, but they pack a lot of calories. Cutting back on the amount eliminated 39 calories per serving.
The Feedback: "The new cookies have the same intense flavor as the original," says Ben, "and I'd be happy to share them with friends and colleagues."
And once I decide what to prepare for our Valentine's Day dinner, I think I'll finish our menu with a few of these.
CookingLight.com: Plan your next gathering with the Ultimate Holiday Cookbook
Before | After
Serving size: 1 cookie
Calories per serving: 294 | 142
Fat: 17.4g | 4.7g
Percent of total calories: 53 percent | 29 percent
RECIPE: Mudslide cookie
Yield: 30 cookies
(serving size: 1 cookie)
Ingredients
1 1/2 tablespoons butter
2 ounces bittersweet chocolate, coarsely chopped
2 ounces unsweetened chocolate, coarsely chopped
1 tablespoon instant coffee granules
1 tablespoon hot water
1 teaspoon vanilla extract
1 1/2 cups all-purpose flour (about 6 3/4 ounces)
1/2 cup unsweetened cocoa
2 teaspoons baking powder
1/8 teaspoon salt
2 1/2 cups sugar
1/2 cup egg substitute
2 large eggs
1/2 cup chopped walnuts
1/4 cup semisweet chocolate minichips

Preparation
1. Preheat oven to 350°.
2. Place butter, bittersweet chocolate, and unsweetened chocolate into a microwave-safe bowl; microwave at HIGH 1 minute or until chocolate is almost melted. Stir until smooth.
3. Combine coffee granules and 1 tablespoon hot water, stirring until granules dissolve.
4. Stir coffee and vanilla into chocolate mixture. Lightly spoon flour into dry measuring cups; level with a knife.
5. Combine flour, cocoa, baking powder, and salt, stirring well with a whisk. Combine sugar, egg substitute, and eggs in a large bowl; beat with a mixer at high speed 6 minutes or until thick and pale.
6. Gently stir 1/4 of egg mixture into chocolate mixture; stir chocolate mixture into remaining egg mixture. Stir in flour mixture, nuts, and chocolate chips.
7. Cover baking sheets with parchment paper. Drop dough by rounded tablespoonfuls 2 inches apart on prepared baking sheets; with moist hands, gently press dough into 1/4-inch-thick rounds.
8. Bake at 350° for 15 minutes or until set. Cool 1 minute. Remove from pans; cool completely on wire racks.
Nutritional Information
Calories: 142 (29% from fat)
Fat: 4.7g (sat 2g, mono 1g, poly 1.1g)
Protein: 2.5g
Carbohydrate: 25.2g
Fiber: 1.3g
Cholesterol: 16mg
Iron: 1.1mg
Sodium: 59mg
Calcium: 29mg
Enter for a chance to win in our $5,000 Grocery Giveaway
Copyright 2011 Cooking Light magazine. All rights reserved.