College students encouraged to get H1N1 vaccine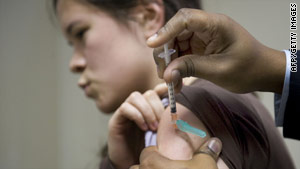 Officials are urging college students to get vaccinated for the H1N1 flu before heading home for the holidays.
STORY HIGHLIGHTS
U.S. Department of Education wants college students to get vaccinated for H1N1

Officials also urge college teachers to be flexible with students who get sick

No schools have been closed recently due to H1N1, but officials stress caution

Washington (CNN) -- Chris Edwards' fever spiked at 104 degrees this fall before he was sent home from Frostburg State University in western Maryland to recuperate from the H1N1 flu.
"It scared most of my family more than it scared me," the freshman information technology major told CNN in a telephone interview Thursday. "For me, it was regular sick."
He is one of many students at U.S. colleges who have tested positive for H1N1 -- also known as swine flu -- in recent months. To help cut down on the spread of the disease, the U.S. Department of Education has begun encouraging college students to get vaccinated.
Secretary of Education Arne Duncan said that officials would like to see college students inoculated before they head home for Christmas break. And if exam schedules make that impossible, students should try to get the vaccine while they are at home, he said.

Video: Saving your child from H1N1

Video: Fast H1N1 tests often wrong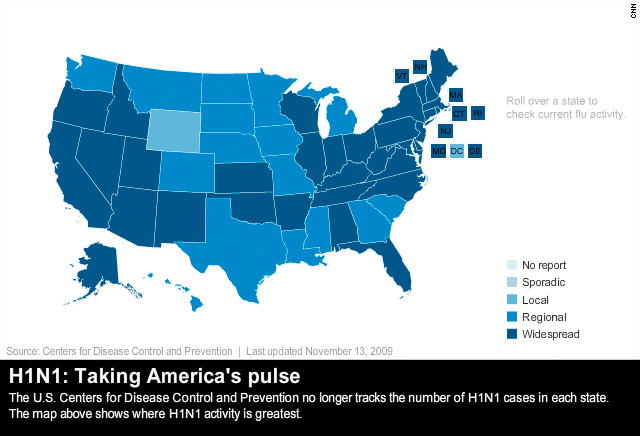 CDC : Fewer states are reporting widespread flu activity
As another tactic to cut down on the spread of H1N1, Duncan said his department is urging college teachers to be flexible with students who get sick, so they are not afraid to miss classes.
"If you are sick, this is highly contagious and we really need you home getting well before you return to class," Duncan told a group of college newspaper reporters.
Edwards can attest to how difficult that can be. After missing a week of school, he said, "It took me a long time to catch up."
The Department of Education said its most recent check of elementary and secondary schools found none were closed because of the H1N1 virus. That's a big change from a peak in late October of more than 450 schools closed, affecting over 350,000 students across the United States.
However, officials warn it is too soon to relax.
"Although flu is going down, it's far from gone," Centers for Disease Control and Prevention Director Thomas Frieden said Monday, pointing out that flu season lasts until May.
"Only time will tell what the rest of the season will bring," he said. "There are still lots of kids who are sick and lots of people who are at risk of getting influenza and end(ing) up getting severely ill from it."