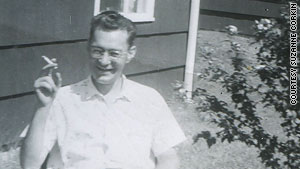 Henry Molaison, seen here in front of his family's home in 1958, suffered amnesia after an operation.
STORY HIGHLIGHTS
Thousands of people are watching a video of a brain being dissected
The brain belonged to H.M., who had amnesia after surgery in 1953
Researchers have spent the last year preparing for the process of slicing this brain
(CNN) -- Henry Molaison, known as H.M. in scientific literature, was perhaps the most famous patient in all of brain science in the 20th century.
"My daddy's family came from the South and moved North, they came from Thibodaux Louisiana, and moved north," Molaison would say. "My mother's family came from the North and moved South." Within 15 minutes he might repeat this exact statement twice more, unable to remember that he'd already said it. Scientists studied him for most of his adult life.
This week, researchers are dissecting his brain to figure out exactly which structures contributed to his amnesia, which he suffered for more than 50 years.
At the Brain Observatory at the University of California, San Diego, researchers began slicing H.M.'s brain Wednesday afternoon and streaming the procedure live to the world on their Web site. Watch it live
"We're doing it, this sort of marathon through the brain," said Jacopo Annese, director of the Brain Observatory. By Thursday afternoon, the scientists were less than halfway through the brain, but the process was going "miraculously well," he said.
A camera is taking a picture of each individual slice, and these pictures will also be made available on the Web. The goals are to map the human brain in new ways and correlate individual structures with specific functions such as memory.
The exciting part comes Thursday night as scientists probe deeper into the part of the brain that had been removed more than 50 years ago, causing the patient's memory abnormalities, he said. The procedure will reveal more about Molaison's brain than a high-resolution MRI scan could, said Suzanne Corkin, professor of behavioral neuroscience at the Massachusetts Institute of Technology, who studied and worked with Molaison since 1962.
Annese likened the exploration of Molaison's brain to the search for the formation of colors in an impressionistic painting. If you look at a very small section of the painting up close, you see that many different colors together form the pink streaks that are visible when you step back and look at the whole thing, he said.
Molaison, born in 1926, had been suffering epileptic seizures since childhood, and underwent an operation in 1953 remove the part of the brain doctors believed were causing the seizures. They took out much of the hippocampus, a horseshoe-shaped structure that plays a major part in long-term memory.
The result was that, after the surgery, the patient could not form new memories that lasted more than 20 or 30 seconds, Corkin said. The operation did, however, succeed in reducing his seizures, and "he paid a high price for that benefit," she said.
Corkin first encountered Molaison in 1962, when she was a graduate student at the Montreal Neurological Institute at McGill University. As part of her thesis project, she studied him and two other patients who had had brain surgery to treat epilepsy, with no idea that Molaison would become so important in scientific research.
"He's taught us a lot about how memories are formed in the brain," said Natalie Schenker, research scientist at the Brain Observatory. "Now that he has died and his brain can be looked at anatomically, we can make an even better association between which parts of the brain were responsible for memory formation."
After the operation, he went home to live with his mother and father, Corkin said. He continued living with his mother after his father died until both mother and son went to live with a relative.
"If you asked him how old he was, he always guessed younger, but he never said 27," which is how old he was at the time of the surgery, Corkin said.
Even before the operation, Molaison enjoyed doing crossword puzzles and believed they helped his memory, Corkin said. He could retrieve any word he knew before the brain surgery but could not learn any words that came into his vocabulary afterward. He spent a lot of time at home doing these puzzles and watching television, she said.
Molaison's last 28 years of his life were in a nursing home in Connecticut, where the woman who took care of him near the end called him Teddy, like a teddy bear, Corkin said.
Molaison died at age 82 of respiratory pneumonia. He also suffered from dementia for reasons that did not stem from his 1953 surgery, Corkin said. It is still unknown whether he developed Alzheimer's disease or vascular dementia, a question that can also be examined with the dissection.
By the time he passed away December 2 of last year, plans had already been set to study his brain. Corkin had long decided that it was imperative to examine it post-mortem, and the patient and his legal conservator agreed to sign a donation form in 1992. Then, in 2002, Corkin assembled a team of scientists to decide what they would do, minute by minute, upon his death.
Researchers have spent the last year preparing for the process of slicing Molaison's brain. Their technology allows them to cut the brain at a width of 70 microns, and will yield about 2,600 slices total, Annese said.
For the total dissection, the brain has been cooled to a temperature of 40 degrees below zero Celsius. The entire process, streamed live on the lab Web site, is expected to last about 30 hours, and will probably go into Friday night, Annese said.
Although Annese said he's nervous when he's more than 10 minutes away from the brain -- there was a minor mishap with the cooling liquid Thursday morning -- generally everyone in the lab is calm and relaxed during the procedure, he said. For the past three months, the team has gone through "dress rehearsals" with other brains, he said.
Thursday around noon, there were 17,000 people watching the live video of the brain cutting, he said. The Web site has had more than 3 million hits.