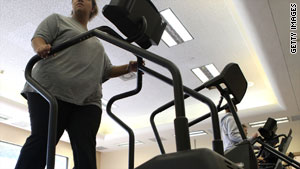 Obesity increases a person's risk of heart disease, type II diabetes, stroke, some cancers and other ailments.
STORY HIGHLIGHTS
Students must pass BMI test in order to place out of fitness class at Lincoln University

Lincoln is a historically black college in Oxford, Pennsylvania

Department head defends the policy; legal expert says the requirement is excessive

African-Americans were 1.4 times as likely to be obese as non-Hispanic whites in 2007

(CNN) -- Most college students expect to receive their diplomas on the basis of grades, but at a Pennsylvania school, physical fitness matters too.
Students at Lincoln University with a body mass index of 30 or above, reflective of obesity, must take a fitness course that meets three hours per week. Those who are assigned to the class but do not complete it cannot graduate.
Calculate your body mass index
Now that the first class to have this requirement imposed is nearing graduation day -- students who entered in the fall of 2006 -- the school faces criticism from both students and outsiders about the fitness class policy.
One of those students is Tiana Lawson, 21, whose recent editorial in the student paper has drawn national attention to the issue. Lawson wrote in The Lincolnian that she would be more understanding if the requirement applied to everyone. She thinks all students, not just those with a high BMI, should have to take the class.
Read Lawson's editorial in The Lincolnian

Video: Mandatory fitness class
"I didn't come to Lincoln to be told that my weight is not in an acceptable range," Lawson wrote. "I came here to get an education which, as a three-time honor student, is something I have been doing quite well, despite the fact that I have a slightly high Body Mass Index."
Lawson, who told CNN she had been putting off getting her BMI tested until this year, recently found out she would have to take the class. At first angry, Lawson said she is now more "confused" about the requirement.
"I don't know why they would want some people to be more healthy than others," she said.
But James DeBoy, chairman of the school's Department of Health and Physical Education, says the requirement is just like courses to help students' communications or math proficiency. The faculty also has a priority to be honest with students, he said.
"We, as educators, must tell students when we believe, in our heart of hearts, when certain factors, certain behaviors, attitudes, whatever, are going to hinder that student from achieving and maximizing their life goals," he said.
Moreover, if there were unlimited resources, the fitness opportunities would be for all students, but that is not the reality, he said.
The historically black college receives public funding, but is under independent control.
Obesity increases a person's risk of heart disease, type 2 diabetes, stroke, some cancers and other ailments. African-Americans were 1.4 times as likely to be obese as non-Hispanic whites in 2007, according to the U.S. Department of Health and Human Services. About four out of five African-American women are overweight or obese, the agency said.
"Obesity is going to rob you of your quality and quantity of life," DeBoy said. "We believe that this is unconscionable."
The fitness course, called "Fitness for Life," consists of activities including water aerobics, Tai Bo and aerobic dance, he said.
Because BMI is not a perfect measure of obesity, students also have their waist circumference measured, he said. There are some people who have a high BMI because of their muscle mass, but are not actually obese, and the waist measurement is meant to weed out those people.
From a legal perspective, the school's requirement seems "paternalistic" and "intrusive," said David Kairys, professor of law at Temple University Law School in Philadelphia, Pennsylvania.
"The part that seems excessive is forcing them to take this course, or to exercise three hours a week, which isn't a bad idea for them, but should be their choice," he said.
Lincoln is "breaking new ground" with this requirement, as Kairys has not heard of one like it at other schools.
Some students, such as Brittnai Panton, a 19-year-old freshman from Decatur, Georgia, like the requirement. She tested out of having to take the class, but supports having it around.
"Being in this day and age where people are becoming overweight and need more fitness, I think it's a great idea to earn extra credit, an easy extra credit," she said.
Many of her classmates don't find it offensive, she said.
"It is like you're getting a second chance to actually do fitness in school, which certain people wouldn't do," she said. "Many of them find it an easy credit."
DeBoy said 620 students have either tested out or taken the course, with 80 remaining to get their BMI evaluated. He estimates 12 to 15 will need to take the fitness class in January.
When the faculty first approved the fitness course requirement in 2006, there were minimal concerns raised, he said. The intention is to spread the message that people in school, including high school and middle school, need more physical activity.
"This is one university's -- granted it's radical and it's upsetting -- approach to try to begin to directly address" obesity, he said.