STORY HIGHLIGHTS
The Reyes family home and neighborhood were destroyed by a California wildfire
Their son, Jonathan has autism and thrives on familiarity and routine

Recovering from fire and uprooting was a struggle for young Jonathan
Sylmar, California (CNN) -- One year ago Jonathan Reyes wrote a letter to give his parents on Thanksgiving, telling them "I'm thankful for my house which is blue and keeps me safe."
Today, as his mother, Jan Reyes, shows the letter she is in tears. "When he brought it home we cried a lot, of all things for a 7-year-old to be grateful for!" She cried because weeks before Jonathan's letter came home, that blue house and their entire neighborhood were destroyed by a massive wildfire. She cried because as difficult as losing a home would be for any child, it's a different kind of stress for Jonathan. He is autistic.
Children with autism thrive on familiarity and routine and his life had been turned upside down.
The Reyes family's plight came to light during the fire's immediate aftermath as a bewildered and frightened Jonathan sifted through the rubble. The family was meticulously searching the charred debris for anything that survived.
Jonathan's father, Augustine Reyes, says objects and belongings are especially important to children with autism. And everything Jonathan had loved was gone, from the cherished blanket he clutched to sleep, to his fixation -- more than 500 Hot Wheels cars. Jonathan could calm himself by lining them up, counting and playing with them. The family was hoping at least one of Jonathan's metal cars would somehow be intact, but found only charred parts.
"Augie and I didn't know how to deal with it," Jan Reyes says, "let alone how to deal with Jonathan and help him deal with it."
The huge toll of the fire on Jonathan soon became clear. "He started to have frequent meltdowns," Jan says, and "if he hears a helicopter he still wants to make sure it isn't a fire helicopter. He runs outside to make sure there's no smoke or no flames."
Jonathan also began suffering from night terrors.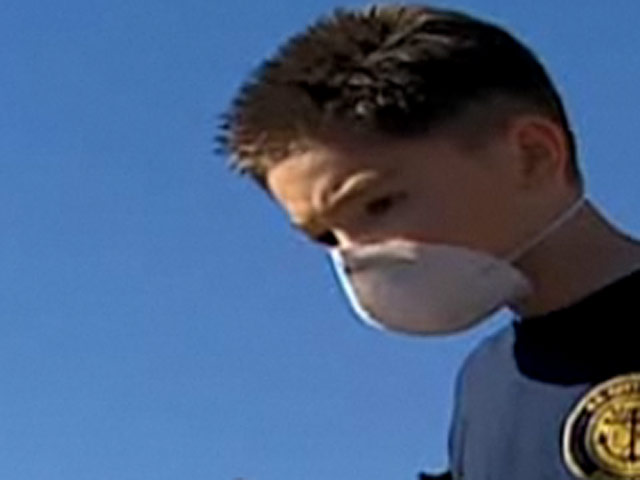 Video: First look at lost home
Augustine Reyes says his son would wake up screaming. "I distinctly remember going into his room and going to the bed trying to comfort him," the father said. "The night of the fire we woke him up. It was pitch dark. We only had the two flashlights, so to take him out of that room in that circumstance. ... He relived it for quite a while really, the emotional fear."
Reyes says he and his wife grew frustrated. "We know he has these feelings inside but we can't get him to discuss them."
At Herrick Avenue Elementary School, the school psychologist and Jonathan's special education teachers also saw changes.
"He was very nervous and very scared," says teacher Maribel Orozco. "He doesn't know how to express himself, so for him it's his behavior where we can tell something is going on. He's crying, shaking. He starts peeling at his hands."
Jonathan's teachers say they had to halt mainstreaming him with other students for a while and began keeping a joint communication log with his parents, tracking behaviors day and night. "Really the autism kind of overtook him," Augustine Reyes says. "No matter what kind of serenity or help we gave him, it just didn't help."
But then, slowly, over months, the positive changes began. Jonathan started responding to therapy, opening up and sharing his feelings.
A few weeks ago as he spoke to a TV camera, he was able to express his fears. "I am worried about another fire," he said.
Jonathan's tantrums and his night terrors have now largely subsided. At the same time, his parents say, they have all been buoyed by a tremendous outpouring of support from hundreds of people touched by Jonathan's story. "The response we received as a family and for Jonathan was just absolutely outrageous," Augustine says. "It changed my wife and I in a lot of ways. We saw how people really opened their hearts to us."
"He was very nervous and very scared... He's crying, shaking. He starts peeling at his hands."
--Maribel Orozco, Jonathan's teacher
Part of that overwhelming response: Other children with autism mailed postcards; a parent who had lost a son to cancer sent his child's Hot Wheels collection to Jonathan; Hot Wheels' maker, Mattel, responded with a huge shipment of the exact cars Jonathan had lost, and more cars came from American soldiers who'd seen Jonathan's story in Iraq.
"They decided to send me some Hot Wheels and then Mommy and Daddy started to cry," Jonathan says. Adds Jan: "We were just so touched. Here they were fighting for us, and here they took the time out ... a whole troop who saw Jonathan in Iraq."
And now, one year later, the Reyeses are receiving another incredible gift: a long-awaited return home.
They have rebuilt back in Oakridge Mobile Home park, and will be one of the first families to bring the community back from ashes. This month, Jonathan and his father loaded the moving truck at what has been their temporary apartment. "Are you ready to go home? How long have you been waiting for it?" Augustine asks his son. "Every day," says Jonathan.
At their freshly painted home, Jonathan can't wait to show off his room and those beloved Hot Wheels.
"Those are some of my favorite cars," he says. "And here's some of my Hot Wheels that you are going to want to see."
This Thanksgiving Jonathan has another gift for his parents. He's drawn a bright, happy picture of their new home. "He's just like a little bird spreading his wings all over again," Augustine Reyes says. "He's Jonathan again. He came back."