STORY HIGHLIGHTS
Film presents a women's soccer team in Zimbabwe whose members are all HIV positive
More than one in four people in Epworth are HIV affected
HIV+ African women are not shown as victims but as champions
Players in the team hope to inspire other HIV infected people like them

Editor's note: Joanna Stavropoulou was Communications Officer for humanitarian organization Medecins sans Frontieres (Doctors Without Borders) for two years and was based in Zimbabwe. While there she found out about The Positive Ladies Soccer Club and directed a film about their exploits. The first-time director tells CNN how the ladies featured in the film inspired her with their strength and heroism.
London, England (CNN) -- Somebody told me about a group of HIV positive ladies in the Epworth Medecins sans Frontieres (MSF) clinic in Zimbabwe who had formed a football team and every time they won a match, they would march through the clinic in their football jerseys singing uplifting songs in order to inspire other HIV-infected people like them.
When I heard the story it was hard to believe. Epworth is one of the poorest townships in Zimbabwe. It has a high prevalence of HIV, more than one in four are infected, and yet despite this high number, the stigma against people with HIV is horrendous.
Women especially get the worst of this. They are scorned, shunned, laughed at, kicked out of their house by their landlord, husband (who was the one who infected them in the first place) or their in-laws.
So it was hard for me to imagine these women declaring their status publicly and to do so by playing football -- women in Zimbabwe don't play football.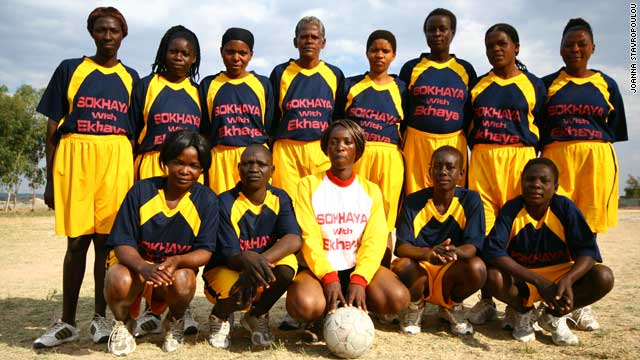 Gallery: The Positive Ladies Soccer Club
I went to meet the ladies at the MSF clinic and I was immediately inspired by their quiet strength, the power of their conviction. They told me they wanted to show people that they were human just like everybody else.
There was a football league tournament coming up and they wanted to win it in order that people stop looking down on them. They sang for me then, they sing all the time, songs about not being afraid and about overcoming.
Music is so much a part of everything they do and are, it is within them, tying them together and giving them hope and strength. All the songs in the movie are sung by the ladies.
Filming:
I got the approval and funding from MSF to film the football ladies story, even though MSF does not usually make movies. Our budget was minuscule, as it should be because MSF's money goes where it should be going -- to its patients.
This meant that I hit the ground running. There was no time for ground research, preliminary interviews or anything like that.
First day I arrived with the camera and sound person, was the day I started also getting to know the ladies. Each of the ladies has an amazing story to tell, heart-wrenching and inspiring. One of the hardest things I had to do was to decide who were going to be my lead characters.
Before we started filming, we had to get approval from the Zimbabwean authorities. This actually wasn't difficult, mostly I think because of the standing that MSF has as an independent non-political organization.
The movie is about HIV people and the stigma they face -- a theme that can be applied to so many countries around the world. When filming in the community, the reaction again was the same -- once they knew the film was being done by MSF, people were very friendly and accepting. Just in Epworth alone, MSF is treating over 10,000 people with the HIV virus.
One incident that stuck in my mind during filming was during one of the first practice sessions that we were filming in the local Epworth school football pitch (mostly dirt with rocks) when a man holding a football came up to me.
"We are the Epworth men's football team, you can film us now," he said. Behind him stood a group of men in shorts and T-shirts grinning at me. "I'm sorry," I replied, "I'm only interested in filming them," pointing to our ladies, two of whom had just crashed against each other in search of a wayward flying ball.
"But why?" the man asked amazed. "Because they're going to be champions," I said. I really enjoyed seeing that man's disbelief.
Of course soon, just because we were following them around in all their daily lives, at their washing, cooking, shopping at the market, church going -- the ladies became local stars.
They told me that people would now look at them admiringly and try to come to speak to them -- these same people who so recently would point at them jeering, calling out things like "Look at her, she is a living corpse!"
We did the first Zimbabwe premier of the movie in the posh neighborhood of Avondale, in the center of Harare. For this showing we invited officials, NGOs, dignitaries.
The reaction was overwhelmingly positive. Officials from Zimbabwe ministries came up to me and said, "I feel like for the first time someone is showing something real about Zimbabwe." Other people said they cried with the stories of the women, some also realizing the prejudices they themselves hold consciously or unconsciously about those with HIV.
But the screening which most touched my heart, where I myself cried, was when we showed the movie in Epworth itself. There is no movie theater in Epworth, the town has hardly any electricity or running water -- so we set up our own screen and brought our own generator.
We began the movie at dusk and I had a twinge of anxiety, wondering how they would take the movie. But even from the first minutes, everyone was laughing uproariously with the ladies first endeavors to play football, or murmuring in assent at their heart-wrenching stories. Or clapping and bellowing when they won a qualifier match to enter in the finals (You'll have to watch the movie to find out if they won the finals or not.)
But most rewarding for me was the comment one woman in the audience made to a local MSF staff, "I'm going to go get tested tomorrow," she said resolutely.
Audiences in Europe have also reacted positively to the movie because for once it doesn't show Africa, African women or HIV positive African women as victims.
It shows them for the wonderful people they are, the champions they strive to become. The positive ladies are my heroines and that is how I hope people will feel about them once they watch the movie.
Find out more at http://www.thepositiveladiessoccerclub.com/
Interview by Stephanie Busari