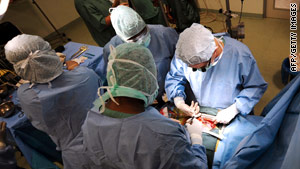 Angioplasty patients should evaluate whether they need an acid-suppressing medication, one doctor said.
STORY HIGHLIGHTS
Angioplasty patients were 30 percent more likely to die if taking certain proton pump inhibitors
The study examined some 8,300 angioplasty patients who had had drug-secreting stents

Other PPIs weren't associated with a greater risk of dying after the procedure, study found

Findings need to be interpreted cautiously as some patients may have been sicker to begin with

(Health.com) -- Heart patients who take certain stomach-acid-suppressing drugs to prevent gastrointestinal bleeding may be at increased risk of dying after a cardiac procedure, according to a study presented at the annual meeting of the American Heart Association (AHA) in Orlando, Florida.
Researchers at Mount Sinai Medical Center, in New York City, reported that patients who underwent angioplasty, a procedure to clear blocked blood vessels in the heart, were 30 percent more likely to die if they were taking proton pump inhibitors (PPIs).
It's unclear whether the patients in the study who were prescribed these medications were sicker than those who weren't, and thus more likely to die.
The study's lead author, Joseph M. Sweeny, M.D., a cardiologist at Mount Sinai, says that he will continue to follow current guidelines on prescribing PPIs, but that he will also be "very careful" in deciding which of his patients need to be on the drugs.
Before undergoing angioplasty, heart patients are typically prescribed blood-thinning drugs such as aspirin and Plavix, which increase the risk of stomach bleeding and ulcers. In a joint statement issued in 2008, the AHA, the American College of Gastroenterology, and the American College of Cardiologists indicated that PPIs could help prevent stomach bleeding in people at high risk.
But some experts have raised concerns that PPIs could make Plavix less effective because they block the action of enzymes that are crucial for metabolizing the blood-thinning drug. A number of studies have suggested that mixing the two drugs could be risky for patients, while others have not.
Health.com: Plaque in your arteries can cause a heart attack
The study examined some 8,300 angioplasty patients who had had drug-secreting stents placed in their hearts to prop open narrowed blood vessels. In all, 17 percent of the patients were prescribed PPIs.
During the follow-up period, which lasted an average of two years, 602 patients died. When Sweeny and his colleagues broke patients into groups according to which PPI they were taking, they found that omeprazole (Prilosec) and pantoprazole (Protonix) were associated with an increased risk of death of 72 percent and 54 percent, respectively, in the years following the procedure.
Two other PPIs, esomeprazole (Nexium) and lansoprazole (Prevacid), were not associated with a greater risk of dying after the procedure. It's not clear whether this means some PPIs were safer than others, says Sweeny.
"The numbers that I got were very dramatic," Sweeny says. "You have to raise questions as to exactly what this is coming from."
The findings need to be interpreted cautiously, he adds, because the patients who were taking PPIs may have been sicker to begin with. "What the clinical implications of this are right now I don't know," he says. However, the risk of death and complications after angioplasty is relatively low overall.
"The jury is still out regarding acid-suppressing medications and Plavix," says Shoshana J. Herzig, M.D., a researcher at Beth Israel Deaconess Medical Center and Harvard Medical School, in Boston, Massachusetts, who didn't participate in Sweeny's study.
Health.com: Feeling stressed? Why you may feel it in your gut
Because overall mortality in the current study was greater among the patients on PPIs, says Herzig, it's definitely possible they may have been sicker in the first place.
Even so, she says, "I think that it's fairly clear that in patients who are on Plavix and an acid-suppressing medication, we should evaluate whether they actually need that acid-suppressing medication." Although PPIs usually aren't intended to be taken indefinitely, patients often wind up staying on the drugs anyhow, she says.
Health.com: Choosing an over-the-counter heartburn remedy
At least in ICU patients, Herzig says, PPIs are prescribed too often, in large part because the ulcer drugs are viewed as very safe. However, she adds, rarer side effects do come to light when a drug is prescribed to millions of people.
Any patient who is prescribed a PPI, Herzig and Sweeny agree, should ask their physician why, and find out how long they need to take the medication.
Health.com: 7 causes of high cholesterol
At the American Heart Association's annual Scientific Sessions meeting, more than 20,000 cardiologists and other physicians from around the country give presentations on new research and on advances in the diagnosis and treatment of heart disease and stroke.
Copyright Health Magazine 2011