FDA: Caffeinated alcoholic drinks may be illegal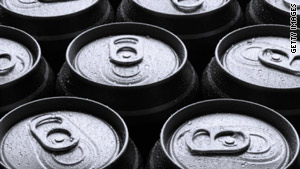 Caffeine masks the intoxicating effects of alcohol, the FDA said in a letter to beverage manufacturers.
STORY HIGHLIGHTS
The FDA has notified about 30 manufacturers of caffeinated alcoholic drinks
To date, caffeine has been approved for use only in soft drinks
The FDA never approved caffeinated alcoholic beverages
(CNN) -- The Food and Drug Administration has notified about 30 manufacturers of alcoholic beverages containing added caffeine that it intends to take a look at their products.
The question is not only if these products -- such as 24/7 made by Mix Master Beverage Co. and Joose by United Brands Co. -- are safe, but also whether it is even legal to add caffeine to such drinks, the agency says.
In September, 18 attorneys general from states including Connecticut, Utah, California and New York sent a letter to the FDA outlining why they consider such drinks dangerous. They were joined by a number of doctors and scientists who have conducted research on the subject.
The letter cited several studies that showed stimulants such as caffeine mask the intoxicating effects of alcohol and could lead to increased risk-taking and other alcohol-related problems such as violence, sexual assault, traffic accidents and even suicide.
One study done last year found usage to be nearly 30 percent among college students, in whom the beverages are associated with "heavy episodic drinking and episodes of weekly drunkenness."
It also found people who drink caffeinated alcoholic beverages are more likely to have alcohol-related problems.
"The increasing popularity of consumption of caffeinated alcoholic beverages by college students and reports of potential health and safety issues necessitates that we look seriously at the scientific evidence as soon as possible," said Dr. Joshua Sharfstein, principal deputy commissioner of food and drugs.
Any ingredient added to food is considered a food additive. According to the FDA, "food additives require premarket approval based on data demonstrating safety submitted to the agency."
Ingredients added to food are considered unsafe and against the law unless the FDA approves their use or unless the ingredients are "generally recognized as safe," a designation that still requires evidence of safety at the levels used in the product.
To date, caffeine has been approved for use only in soft drinks, and only at concentrations under 200 parts per million.
The fact that the FDA never approved caffeine in alcoholic beverages raises questions about whether such drinks can be legally marketed.
The makers have 30 days to provide safety data to support claims that the caffeine use is generally recognized as safe. If the FDA finds that it is not, it can demand the products be taken off the market.
Last year, Anheuser-Busch and Miller agreed to take their popular caffeinated alcoholic beverages off the market. The companies reformulated Tilt, Sparks and Bud Extra, taking out the caffeine. Both agreed not to make caffeinated alcoholic drinks in the future.