FDA launches program to prevent errors in medication use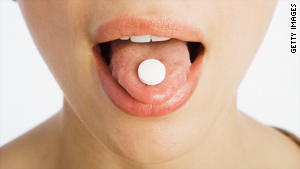 FDA estimates that 4 million visits to the hospital occur because of misuse of medication or overdose.
STORY HIGHLIGHTS
New effort announced by FDA to reduce injuries from preventable medication errors
4 million visits to hospitals occur from medication misuse or overdose
Agency released new guidelines for companies that make over-the-counter medications
Washington (CNN) -- The Food and Drug Administration launched an effort Wednesday to reduce needless injuries resulting from preventable medication errors.
"Too many people suffer unnecessary injuries from avoidable medication misuse, errors and other problems," said Dr. Margaret A. Hamburg, the agency's commissioner. "The FDA is launching the Safe Use Initiative to develop targeted solutions for reducing these injuries."
Some 4 million visits to hospitals, doctors offices and health care clinics each year stem from misuse -- both intentional and unintentional -- or overdose, she said, with more than 100,000 resulting hospitalizations. She estimated up to half of those could be prevented.
The commissioner said prescription and over-the-counter drug interactions also are big problems.
In an effort to ensure safer use, the agency also released new guidelines for companies that make or distribute over-the-counter medications that come with dose delivery devices such as droppers, spoons or cups.
"This new drug dosage guidance document is an example of steps that can be taken to ensure safer medication use," said Dr. Janet Woodcock, director of the FDA's Center for Drug Evaluation and Research. "Many accidental overdoses result from confusion about exactly how much of a drug to take. Better measuring devices will help patients, parents and other caregivers use the right amount of these medications -- the safest and most effective dose -- especially for children."
Hamburg said the FDA is working with the Centers for Disease Control and Prevention on estimates for the number of people who die from avoidable medication errors. She said she expects the number is very large.
"I was stunned at the scope of the problem," she said.