By Claire Barthelemy
For CNN





LONDON, England (CNN) -- Men are less likely to wash their hands properly than women, according to a new study.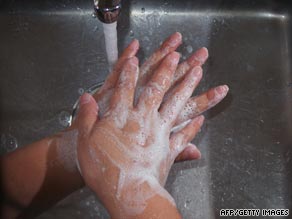 Swine flu is among many illnesses from pneumonia to intestinal worms that can be prevented with clean hands.
While the majority of women use soap and water on their hands after using the bathroom, men often need blunt reminders to lather up, according to research on hygiene habits conducted by London School of Hygiene & Tropical Medicine.
The study, released on Global Handwashing Day, October 15, used online sensors to record how much soap was used by 250,000 people after they had used the toilet.
The results revealed a large discrepancy between the sexes: only 32 percent of men used soap compared with 64 percent of women.
Dr. Val Curtis, one of the authors of the study, thinks our activities in the toilet could explain the disparity.
"Some of the men that were included in the study were only urinating," Curtis, Director of the Hygiene Center at the London School of Hygiene and Tropical Medicine told CNN. "That's probably why they think they don't need to wash their hands even if they should."
Vital Signs
Each month CNN's Dr. Sanjay Gupta brings viewers health stories from around the world.


Participants were shown a variety of messages encouraging hand washing when they entered the study bathrooms.
While women responded to gentle reminders like "Water doesn't kill germs, soap does," men often only washed their hands after reading explicit signs like "Soap it off or eat it later," researchers observed.
"We are really puzzled about this and can't really explain it," said Curtis, who surmised that women were more likely to have internalized these messages already.
"The emotion of disgust really works to get people to change their hygiene habits," she added. The threat of social embarrassment is also a potent encouragement, researchers found.
The question, "Is the person next to you washing with soap?" turned out to be the most convincing message for both men and women. "If they think other people are watching them, then they are more likely to wash hands," Curtis concluded.
The spread of swine flu has helped increase hand washing, according to Curtis, although the positive effects are slowly wearing off. "People are not so worried about it anymore," she said.
Swine flu is among many illnesses from pneumonia to intestinal worms that can be prevented with clean hands.
E-mail to a friend