ATLANTA, Georgia (CNN) -- New research suggests that nearly half of patients hospitalized with the H1N1 virus had no underlying conditions, an increase from prior findings, a federal health official said Tuesday.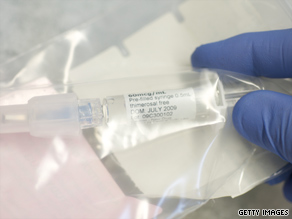 This week, the first injectable H1N1 flu shots are to become available.
"More than 45 percent actually didn't have an underlying condition" said Dr. Anne Schuchat, director of the National Center for Immunization and Respiratory Diseases at the Centers for Disease Control and Prevention.
Schuchat told reporters that the CDC's findings were based on data from about 1,400 adults and 500 children in 10 surveillance sites who were hospitalized with H1N1 virus, sometimes referred to as swine flu.
Those data, which Schuchat called preliminary, appear to clash with findings reported last week in an online publication of the New England Journal of Medicine that found nearly three-quarters of 272 other patients hospitalized with H1N1 had at least one underlying medical condition.
"I think a key point is that this virus can be serious even in healthy people with no underlying conditions," Schuchat said Tuesday. Still, she added, even with the new data, "the majority of people do have underlying conditions."
Among the hospitalized adults, 26 percent had asthma before getting the flu; about 10 percent had diabetes and 8 percent had a chronic lung disease besides asthma, she said. Six percent of hospitalized adults were pregnant.
The most common underlying illnesses among children hospitalized with H1N1 flu were asthma, chronic lung disease, neurological diseases and sickle cell or blood disorders, according to the CDC data.
But Schuchat said another underlying condition may have played a role but was not studied. "We're still looking into what proportion of them may have had severe -- morbid obesity or extreme obesity," she said.
This week, the first injectable H1N1 flu shots are to become available to complement the shipments of inhalable H1N1 vaccine that arrived last week at doctors' offices.
Health officials are hoping people with pre-existing disease and young people will be among the first to get vaccinated because -- even considering the new data -- they tend to be more vulnerable to H1N1 than are older people.
Nearly 10 million doses of H1N1 flu vaccine are available to be ordered by health providers this week, Schuchat said. Nearly half of those are the injectible form. The inhalable form is not recommended for pregnant women and children younger than two years of age because it contains a live virus. For them, only injections of H1N1 and seasonal flu vaccines are appropriate, since they contain inactivated or dead virus.
More vaccine will be available in the coming weeks, she said.
Schuchat said anyone can track the vaccine's availability at www.flu.gov.
Though government officials have promised H1N1 vaccine will be available to all who want it, supplies of seasonal vaccine appear to be limited in some areas. "I wish it were easier for people who were looking for seasonal flu vaccine," Schuchat said in response to a question. "We are aware that there are difficulties in many communities."
She said she was expecting supplies to be replenished next month and noted that plenty of time remains to get the seasonal flu shot.
E-mail to a friend

CNN's Miriam Falco contributed to this story.
All About Swine Flu