By Denise Mann





(Health.com) -- Parents can check out growth charts -- a nifty graph that tells them where their child falls in relation to peers in terms of height and weight -- just about everywhere, from a child's vaccination records to the doctor's office.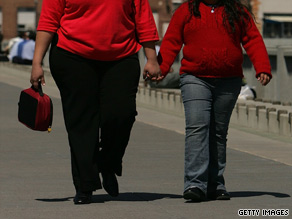 Parents may not interpret growth charts correctly and believe their overweight child is fine.
But there's a problem: A new study suggests that most parents don't know how to read the charts and may think a child's weight is perfectly fine, when, in fact, the child is obese or overweight compared to peers.
More than 12.5 million children and adolescents are overweight, and these numbers are on the rise, according to the U.S. surgeon general. If most parents don't realize that their child is overweight, the new study, which appears in the October 4 issue of the journal Pediatrics, has implications in the war against childhood obesity. Health.com: 25 Diet-busting foods you should never eat
In an Internet survey of 1,000 parents, 79 percent said they had seen a growth chart before, and the majority of these parents believed they understood the information. In fact, about one-third of parents said they used a growth chart at home.
However, only 64 percent of respondents could correctly determine a child's weight by looking at plotted points on a growth chart. What's more, up to 77 percent incorrectly interpreted the data when looking at a combined height/weight measurement chart. Only 56 percent were able to correctly define percentile in a multiple-choice question. A percentile, which is shown as lines drawn in curved pattern on a growth chart, measures how a child compares to his or her peers in height and weight. Health.com: Kids on the run: The new trend in family-friendly fitness
Specifically, 51 percent of parents did not understand that a child in the 10th percentile for height (meaning they are shorter than most of their peers) and 90th percentile for weight (meaning they weigh more than most of their peers) was overweight.
The survey was conducted by Dr. Elana Pearl Ben-Joseph, a consulting medical editor at KidsHealth and the Nemours Center for Children's Health Media, and a pediatrician at the Alfred I. duPont Hospital for Children, in Wilmington, Delaware, and colleagues.
Overall, parents with lower incomes and less formal education were least likely to comprehend information on growth charts, the study showed. And if parents were concerned about a child's weight at all, they tended to think they were too skinny, not too fat. Health.com: How to grocery shop on a diet
"The present study underscores how poorly we as clinicians are getting through to parents," says Dr. Anjali Jain, an assistant professor of pediatrics at George Washington University School of Medicine and Health Sciences, in Washington, D.C. Parents often do not believe that their child is overweight or at risk for health problems, or think a child will outgrow "baby fat."
"Two dimensional lines and plots are not able to speak a language that parents understand," Jain points out in an editorial published with the study. Perhaps, she suggests, discussing height and weight in terms of clothing size may help parents better understand if their child is overweight or obese and at risk for serious medical problems as a result. Health.com: The real reasons we eat too much
Health Library
"It is real to them if they are having to buy clothes frequently or if hems always need shortening to accommodate girth," says Jain, who is also a pediatrician at Children's National Medical Center, in Washington, D.C.
Dr. Alan Rosenbloom, a pediatrician in New York City, says "many parents -- too many parents -- are not understanding their pediatrician's translation of the growth chart data, and this is disturbing to me."
The study suggests that it's not enough for pediatricians to show parents a growth chart; they need to explain the numbers too, according to Dr. Rosenbloom. "Growth charts and [body mass index] charts can serve as great tools in the fight against childhood obesity, but only with good comprehension by the parents who need to understand the data," he says.
Parents must understand their children's height, weight, and body mass index so that "we can tackle the problem of obesity with improved diet and exercise regimens when obesity exists," he says. "[They should also] encourage healthy eating habits from an early age so that we can prevent obesity before it develops."
E-mail to a friend

Enter to win a monthly Room Makeover Giveaway from MyHomeIdeas.com
Copyright Health Magazine 2009
All About Obesity • Children's Health