By Lindsey Holland





(Health.com) -- It's definitely fall: Kids are back in school, football season has kicked off, and ragweed is blooming. While autumn means cooler temperatures and colorful leaves, it also means runny noses and red eyes for millions of Americans.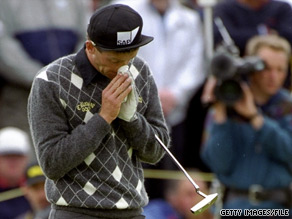 Doctors recommend a management plan to help chronic allergy sufferers through the fall season.
How do you enjoy the season without the side effects?
"Find out what is causing your allergy symptoms," says Angel Waldron, a spokeswoman with the Asthma and Allergy Foundation of America (AAFA). "Get with your doctor and have an allergy management plan." Health.com: Asthma action plan: What it is and why you need it
That management plan may include limiting your outdoor activities to times when the pollen count isn't at its peak, says Rebecca Piltch, MD, an allergy and asthma specialist in San Rafael, California. (It's usually highest between 5 a.m. and 10 a.m.)
When you come back inside, change your shoes and clothes, says Neil Kao, MD, of the Allergic Disease and Asthma Center, in Greenville, South Carolina.
Changing clothes "will help reduce the pollen that you are bringing in from outside, says Kao. "If you don't at least take off your shoes, you're tracking the pollen all over the house." Health.com: 15 hypoallergenic dogs and cats
And take a shower to wash any allergens off your body, Dr. Piltch says.
Once inside, keep your windows closed, change your air filters, and run your air conditioner, Dr. Kao adds.
For more severe allergies, over-the-counter and prescription medications can help. Dr. Kao also recommends nasal sprays, which he says are "simple and safe."
"It's like washing your hands, except for your nose," he explains.
Dr. Kao isn't expecting fall allergies in his home state, South Carolina, to be very bad -- a welcome change. "With all the rain we've been getting across the southeast, the temperatures have been getting lower and the rain has been washing the pollen out of the air," he says.
That's probably good news for allergy sufferers in Greensboro, North Carolina.
Last fall, the AAFA named it the allergy capital of the United States. The list is an annual research project that identifies the 100 most challenging places to live in the U.S. with allergies. Health.com: Cannot stop coughing? 8 causes of chronic cough
In 2008, Greensboro had higher-than-average pollen counts, its residents were taking more allergy medications, and the city didn't have enough allergists for its population, according to the report. Health.com: Heartburn or heart attack? How to tell the difference
But not all allergy sufferers in the Southeast will appreciate the rain.
Some states, like Georgia, may have less pollen after days of flooding rains, but the extra dampness is the perfect climate for mold, a major fall allergy, Dr. Piltch says.
Although the South suffers from weed and mold spore allergies in the fall, Gerald Kress, an executive with SDI Health, which operates Pollen.com, says the North and Northeast gets hit particularly hard by ragweed -- and 2009 is shaping up to be a banner year for ragweed pollen.
In cities from Columbus, Ohio, to Bangor, Maine, the number of people being affected by allergies is up more than 50 percent over 2008.
"It's been a better year for ragweed," Kress says. Usually the region gets more rain from hurricanes, but that hasn't happened this year.
Kress expects the number of people suffering from autumn airborne allergies to increase between 2 and 5 percent over last year.
"It's up 1.3 percent right now," he says. "We think we'll hit the forecast by end November."
E-mail to a friend

Enter to win a monthly Room Makeover Giveaway from MyHomeIdeas.com
Copyright Health Magazine 2009
All About Allergies • Georgia • South Carolina