By Madison Park
CNN





(CNN) -- Going back to Mexico is not an option, said the 43-year-old man, kneeling next to his wife's wheelchair.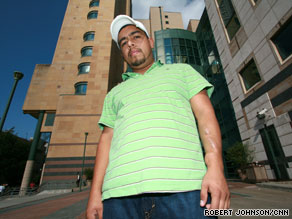 Ignacio Godinez Lopez worries about where to get regular access to dialysis after a public clinic closes this week.
His wife, 45, lost her eyesight to diabetes. She also has high blood pressure. And her kidneys are failing.
For years, he has taken her to a dialysis clinic attached to a public hospital in Atlanta, Georgia. The facility that gave her free care plans to close Saturday.
They are illegal immigrants with no health insurance and, they say they have nowhere to go for his wife's vast medical needs. The closing clinic offered to help return them to Mexico.
The Atlanta clinic is the latest known case of a medical institution that's offering to send illegal immigrants who can't afford treatment back to their native countries -- a practice that critics liken to patient dumping.
Returning to the country of origin is completely voluntary, said Matt Gove, a spokesman for Atlanta's Grady Memorial Hospital. "We can't make anybody do anything," he said. "To patients who've expressed a need or desire to go to their home country, if we can help them, then we try."
'Latino in America'
The Latino population is set to nearly triple by 2050. This October, Soledad O'Brien journeys into the homes and hearts of a group destined to change the U.S. Witness the evolution of a country as Latinos change America and America changes Latinos.
October 21 & 22, 9 p.m. ET

Hospitals have offered medical transfers to foreign countries, but there are no nationwide data tracking the practice. It's unclear how many undocumented patients have returned and whether the repatriations are voluntary.
Last year, a hospital in Chicago, Illinois, was planning to discharge an undocumented comatose patient to Mexico, but he died while his family fought to prevent the deportation. A Stuart, Florida, hospital sent an illegal immigrant who had brain damage back to Guatemala after the man racked up $2 million in unpaid medical bills. A Florida jury vindicated the hospital for its actions in July.
Medical repatriations are happening because hospitals bear the financial burden for uncompensated care, said one expert.
"When they have a large volume of uncompensated care or people who aren't able to pay their bills, and they have limited resources coming in from the government and from insurers, they have to do the best they can," said Carla Luggiero, a senior associate director of federal relations for the American Hospital Association.
Some question who should be responsible for the medical care of illegal immigrants.
"There is no reason why the U.S. taxpayers should have to pick up the tab- when the person is a citizen of another country- it ought to be the responsibility of that government," said Ira Mehlman, a spokesman for Federation for American Immigration Reform or FAIR, a group that favors strict limits on immigration.
Reluctant to return
Don't Miss
The Atlanta couple, who asked to be identified only by the husband's initials, G.L., and the wife's, A.L., said they rejected Grady Memorial Hospital's offer to return to Mexico because they had seen bad medical outcomes there. The woman's mother, sister and niece died of kidney failure in the country despite receiving care, they said.
"In Mexico, dialysis does not guarantee life like it does here," G.L. said. "Maybe they live one year. Here, people can last up to 10 years or more. ... To go back to Mexico would be a death sentence."
Dialysis replaces kidney function, mechanically cleaning the blood.
A judge ruled last week that Grady could close this week, rejecting a legal request by 36 patients who sought to keep the clinic open until they could find permanent treatment elsewhere. The hospital agreed to pay for three more months of dialysis at a different clinic, according to a court document.
The immigrant couple worry where A.L. will find consistent treatment after the Grady Dialysis Clinic closes. Without dialysis, fluids and toxins accumulate in her body, which can lead to brain damage or respiratory problems that could result in death.
On top of a wooden dresser in their studio apartment, there are rows of orange prescription drug containers: statins, lisinopril for her hypertension, furosemide for her swelling. There's also a plastic Virgin Mary.
"As humans, we have a right to life," said her husband, a mariachi band musician.
When the treatment ends, they will most likely have to go to emergency rooms, he said.
By federal law, hospitals must treat emergency patients regardless of citizenship or ability to pay. But emergency care is more expensive than regular care. Dialysis is a lifelong treatment and the only alternative is a transplant.
Financial challenges
Grady's dialysis clinic provides care to the poor and uninsured regardless of citizenship.
Crippled by the economy and growing financial pressures, the public hospital, which served about 724,000 patients last year, has a $33 million deficit. Its dialysis clinic has a $2 million deficit and needs another $2 million to upgrade its equipment, said Grady's attorney, Bernard Taylor. More than half of its 96 patients were illegal immigrants
"It presents challenges to hospitals like us who want to do everything they can to meet needs of the community, but have to make certain decisions in order to stay open," Gove said. "We have to make difficult decisions in order to ensure the hospital stays open."
Patients said the clinic gave them three options: Use emergency rooms, move to another state or leave the country.
Paul Root Wolpe, director of Emory University's Center for Ethics, said that when it comes to repatriating patients, the choices are not always black and white.
"To have an illegal immigrant sent home to their death where they don't have access to proper care is ethically indefensible," he said. "Assuming they can get proper care, it's no different than sending anyone home if they are in a country illegally. The gray area has to do with sending someone home to significantly inferior care."
For Ignacio Godinez Lopez, who crossed the border with his parents illegally when he was 14, the choice was clear.
"I don't want to go back. I have no family back there ... " said Lopez, 23 ,who relied on Grady for dialysis three times a week for kidney failure.
"The only person out there (Mexico) is my grandma and grandpa. They're old. They're sick, too. If I get sick, there's going to be nobody to take care of me and give me medicine, so I prefer to stay here than go over there."
A Grady spokesman declined to say how many of its dialysis patients returned to their countries. At least six patients returned to Mexico, and one is in the process, according to the Mexican consul in Atlanta.
Sonal Ambegaokar, a health policy attorney at the National Immigration Law Center, which protects the rights of low income immigrants, expects medical deportations to increase as long as health care problems remain unresolved. She likened the practice to patient dumping: "It's this underlying current of 'You shouldn't be here, let's send them overseas.' "
"By trying to deport immigrants, a hospital is going beyond its authority," she said. "We would argue that they are acting as immigration agents without any authority to do so."
E-mail to a friend

All About Illegal Immigration and Deportation • Health Care Costs • Health Care Policy