By Meryl Davids Landau





It's a fact of life: Everyone gets sick at times. The scary thing is that illness or medical bills cause nearly two-thirds of all bankruptcies, according to a study from Harvard Medical School. And in 78 percent of cases, the person goes bankrupt despite having health insurance.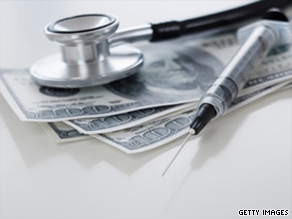 Experts warn to never let your health insurance policy lapse and to take advantage of COBRA.
"Typically, it was a relatively brief illness that led to bankruptcy," says study co-author Dr. David U. Himmelstein, associate professor of medicine at Harvard Medical School. Here's how to protect yourself.
While you're well ...
Never let your policy lapse. It's tempting to forgo insurance premium payments if you're jobless. But "not having insurance is as risky as not wearing your seat belt," warns Atlanta, Georgia financial planner Mary Claire Allvine, co-author of The 7 Most Important Money Decisions You'll Ever Make. "It takes only one accident or illness to financially ruin you." Health.com: How to stay insured if you're fired
Thankfully, the federal government will, in most cases, pay 65 percent of your COBRA bill for nine months if you're laid off this year. Go to the United States Department of Labor Web site for details.
Budget for health care like you do for gas. Factor your annual deductible, doctor-visit fees, and drug co-pays into your budget, Allvine says. Divide what you pay in a typical year by 12 to see what to save monthly. And use your employer's flexible-spending benefit, so you can pay for uncovered medical expenses with pretax dollars. Health.com: How to eat organic on a budget
Get to know your policy. You're more likely to get claims covered when you strictly follow your insurer's requirements, says Erin Moaratty, chief special-projects officer at the nonprofit Patient Advocate Foundation in Newport News, Virginia. Read your policy thoroughly to see what the rules are for seeing out-of-network doctors, getting preapproval for procedures, etc. Health.com: Nine secrets health insurers don't want you to know
Check your disability coverage. Find out if you have this important insurance from your employer (most offer it). Even if you do, many companies pay only 60 percent of your salary should you become unable to go back to work, so consider getting a supplemental policy that makes up the other 40 percent. Compare quotes from different companies at eInsurance.com.
View healthy living as a money matter. See a doctor even for small issues to avoid bigger, costly problems down the line. Eating right, exercising, and quitting smoking are also smart ways to save. Health.com: How to detox your body naturally
If you're already in health-related financial trouble ...
Don't take "no" from your insurer. "Appeal every claim that is denied," Moaratty advises. "In our experience, a majority of denials are eventually overturned."
In some cases, fixing a simple coding error (via a quick call from your doctor) will do it. If that doesn't work, craft a written appeal with care, working with your MD and following the timetable spelled out in your policy. This is important not only because it can help you win, but also because, if you don't appeal and later want to sue in court, you'll be limited to arguments you raised in your appeals.
Don't Miss
Enlist an ally. Consider hiring a medical advocate who knows the ropes, so you don't have to battle your insurance company's or hospital's billing office alone. Fees vary, but start your research at the Medical Billings Advocate of America's Web site. For free guidance, go to the Patient Advocate Foundation's site.
Negotiate with your doctor and hospital. If you get a huge bill, ask for the billing or finance department (not your doc) and tell them what you can afford. Most will slash fees for the promise of a speedy payment or set up a payment plan. "The best time to do this is early in the process, " Moaratty explains. "Once it goes to a collection agency, you'll have fewer options."
E-mail to a friend

Enter to win a monthly Room Makeover Giveaway from MyHomeIdeas.com
Copyright Health Magazine 2009
All About Health Care Costs