By Mark Tutton
For CNN





(CNN) -- After weeks of torrential rain and flooding in West Africa, humanitarian aid agencies on the ground fear an outbreak of diseases like malaria and cholera.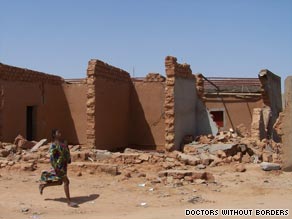 The floodwaters have subsided in Agadez, Niger, leaving the city looking like "it has been hit by an earthquake."
Parts of Dakar, Senegal, are under a meter of water. Rain has been falling for days and the rainy season is expected to last until December.
Philippe Conraud, Oxfam's regional humanitarian co-coordinator in Dakar, told CNN that those living in the city's densely populated suburbs have been worst affected by the flooding and are most at risk from diseases such as cholera and malaria.
"The most worrying thing for us is that people are leaving their houses and moving into schools and empty buildings, which brings sanitation problems," he said.
"If the flooding continues and nothing is done to improve sanitation then we may see diseases."
Conraud said Oxfam plans to distribute soap, detergents, mosquito nets and cooking pots to displaced people.
The United Nations reported this week that torrential rains have affected 600,000 people in 16 West African nations since June.

See photos of the flooding in West Africa. »
Vital Signs
Each month CNN's Dr. Sanjay Gupta brings viewers health stories from around the world.


On Tuesday the town of Agadez in northern Niger was deluged by rainwater running down from the Air Mountains, destroying an estimated 3,500 homes and leaving 30,000 people homeless.
Giancarlo Pepe, field coordinator for Doctors Without Borders (DWB), is based in Agadez. He told CNN that the floodwater had subsided but there is now a considerable risk of malaria, cholera and measles as displaced people crowd into schools and other impromptu shelters.
Don't Miss
"There have been several cases of diarrhea, which is a sign that hygiene at these sites is poor," he said. "There is a serious risk of diseases like cholera. We have had no outbreaks so far but we have to monitor the situation very carefully."
Malaria is always a risk in the rainy season but the flooding is expected to make the situation worse. Pepe told CNN pools of standing water are forming around water points outside schools, increasing the risk of malaria, especially for people who lost mosquito nets during the flooding and those who are now forced to sleep outside.
DWB is inoculating young children against measles to combat the risk of the disease spreading among displaced children who are now crowded into temporary accommodation.
Pepe said it has two mobile clinics monitoring the health situation at the estimated 15 sites where displaced people have congregated, where DWB is distributing hygiene kits and evaluating water points, toilets and showers.
He estimates that another 7,000 people have been left homeless in nearby towns, including Tchirozerine, Dagaba and Tabelot, but he says that the lack of the security in the area means that DWB hasn't been able to assist in those towns.
Other agencies including UNICEF and the WHO World Food Program are also helping aid efforts in Agadez.

"Apart from the international organizations there are lots of local organizations improving the situation in a less visible way," said Pepe.
"There is a strong solidarity between the people here and everybody is trying to support each other."
E-mail to a friend