By Patrick Oppmann
CNN





SEATTLE, Washington (CNN) -- An outbreak of flu at Washington State University showed few signs of slowing down as more students continued to report symptoms suspected of being from the H1N1 virus, school officials said Wednesday.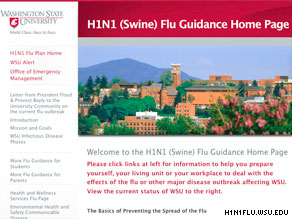 WSU Web page gives information, advice to students who suspect they may have H1N1 virus.
About 2,500 students have come down with possible cases of H1N1 since classes began August 24, said James Tinney, WSU director of media relations.
He added, "It takes about three to four days to get over the virus, so many of the people who have had it are already feeling better and are back in class."
On Wednesday, 169 new suspected cases of the virus, also known as swine flu, were reported among the nearly 18,000 students that make up the school's Pullman, Washington campus, according to a university news release.
The university said while it is no longer testing sick students to confirm H1N1, it is following guidelines from the Centers of Disease Control and Prevention and the local health department by "treating all patients with influenza-like symptoms as if they have H1N1."
Students who contact the school health services department complaining of symptoms of swine flu are urged to stay at home and drink fluids. None of the suspected H1N1 cases have required hospitalization so far, said a university news release.

Watch report on what to look for with H1N1 »
Despite the high number of possible cases, media director Tinney said the students and faculty are not alarmed.
"The symptoms are fairly mild; some people have said milder than a regular case of the flu. I don't see people walking around the campus wearing masks," he said.

Read about H1N1 facts »

But Tinney said officials were surprised that the long Labor Day weekend, when most students left campus, did not do more to interrupt the virus' spread.
"I guess we are an early test case of how this virus will spread over the population," Tinney said.

E-mail to a friend

All About Swine Flu • Washington State University