By Grace Wong and Mark Tutton
For CNN





LONDON, England (CNN) -- Since it was founded in 1994, the Bill & Melinda Gates Foundation has been instrumental in encouraging innovative research that will combat the biggest health issues affecting the developing world.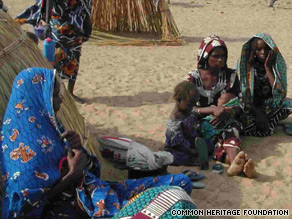 One Gates Foundation grant aims to help reduce malaria among Nigeria's nomads.
The foundation has pledged $100 million in grants to get new scientific research off the ground, as part of Grand Challenges Explorations (GCE).
On Tuesday, GCE launched its latest round of grant applications, open to anyone with a unique approach to solving problems in the developing world.
The idea is to develop creative thinking from people who may not have traditionally taken part in health research.
Begun in 2008, current projects receiving GCE funding include work in Hong Kong to develop flu-resistant chickens and efforts to prevent the transmission of HIV through breast milk.
Don't Miss
To speed up the grant allocation process, applicants only need to fill in a two-page form and submit it online. Successful applicants get a $100,000 grant and the chance to receive more than $1 million in future grants.

The latest round of GCE grants invites applicants to focus on four areas: new technologies for contraception, new ways to induce and measure mucosal immunity, low-cost diagnostics for priority global health conditions, and new ways to protect against infectious disease.
Click on the "Explainer" tab above to take a look at some of the groundbreaking research being funded by GEC.
E-mail to a friend