By Elizabeth Landau
CNN





(CNN) -- We've had nearly every meal together for the past 14 years. We've been kayaking on the California coast. We've ridden airplanes, boats, horses, bikes, and an Israeli camel together.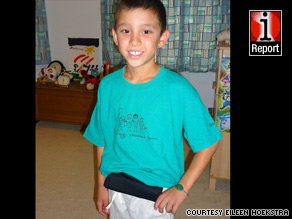 Masaki Hada, 9, wears a belt with two auto-injectors and Benadryl, even at home.
My EpiPen, the auto-injector of epinephrine (which I replace when it expires, of course), is almost always within arm's reach, or in the same room. This shot of adrenaline would theoretically save my life if my throat closed up in an allergic reaction. I've had several close calls with nuts and seafood since childhood, with symptoms ranging from a tingling tongue to a burgeoning lump in my throat.
The allergy injector has both the dependable and nagging qualities of a protective older sibling. It promises to be there when I need it, but also has to follow me around to make sure I'm OK.
The auto-injector reverses an allergic reaction, at least temporarily, by delivering epinephrine, a hormone involved in the body's natural "fight or flight" response, to block the release of histamine, a protein involved in reactions. There is also a product called Twinject that delivers two doses of epinephrine in one device.
Rather than a quick fix, any allergy injector should be viewed as a "time management tool" that allows a person time to safely get to an emergency room, said Dr. Jeffery Adelglass at the Allergy Testing & Treatment Center in Plano, Texas. Further treatment at a hospital is needed after use because the epinephrine wears off, and there could be complications, he said.

Watch for more about allergies »
Don't Miss
These allergy injectors are available by prescription only, and allergy patients should talk to their doctors about if and when they are appropriate for use. They are normally given to stop anaphylaxis, a reaction which may include difficulty breathing, airway blockage, wheezing, itchiness, hives, and swelling of the mouth or throat.
As hard as it is to keep myself safe from harmful foods and carefully read the labels of everything I buy at the supermarket, parents probably have a harder time making sure their children don't get exposed to life-threatening allergens.

Learn more about food allergies »
Eileen Hoekstra of Ann Arbor, Michigan, who shared her experience with CNN's iReport, said her 9-year-old son, Masaki Hada, allergic to several foods, has been wearing a belt with two auto-injectors and the antihistamine Benadryl since kindergarten. Back then she used clip it on him in the morning -- now, the fourth-grader puts it on himself, and doesn't take it off until he gets into pajamas.
"He says he feels naked without wearing it," Hoekstra said. "I'm asking him, 'Do you want to take it off when you're at home, when you're in the house and stuff?' And he said, 'No, I'm just used to having it there, I like having it there.' "
Hoekstra and her friend -- another mother of an allergic child -- have worked with their doctor and their school's nurse to make sure that the school environment is safer for allergic kids. There are now designated nut-free classrooms, the cafeteria is not supposed to serve nut products, and even the bus drivers have been trained in managing allergic reactions.
For Patty, a composer from New York who wrote about her bee allergy on iReport.com, having an Epi-Pen is "simultaneously liberating and daunting."
Although she has never used one on herself, she has administered auto-injectors to help save the lives of two people who were having reactions: a guest at her house in Pennsylvania who swelled up after being stung by a bee, and her child's friend who started wheezing so much that she could barely speak about six minutes after eating.
"It gives you kind of a tease about what it must really be like in an emergent situation, to be a physician or someone who really has a whole toolbox of things that can just bring someone around," she said.
Some people develop or discover allergies later in life. While Patty has known about her bee allergies for decades, Becky Vogt, 33, an iReporter from Franklin Park, New Jersey, had her first violent allergic reaction in June after making guacamole. Since then, she's had to carefully read food and hair product labels for evidence of avocado, and carry an auto-injector wherever she goes. Read her iReport
The two-pack of the device is bulky and can be an annoyance, but it generally makes her feel more secure, she said.
Michelle Kelly, 37, an iReporter from East Orange, New Jersey, has been living with nut allergies for at least six years, and sometimes forgets her auto-injector when she goes out to eat, which makes her feel somewhat concerned. Read her iReport
"No one I know who's close to me knows how to use this," she said. "In a pinch, could I probably count on them? I would say no. It's a little scary, but I try not to think about it."
Although she makes others aware of her food allergies, Kelly has found that few people understand them. Even her mother forgets sometimes, and will offer her carrot cake without considering nut content.
"Fifteen years ago, if someone had said this to me, I wouldn't have understood either, because I was able to eat any and everything, and I did," Kelly said.
I've definitely noticed more awareness of life-threatening allergies over the years, with school's like Hada's taking concrete measures to make sure that the staff understands the severity of allergies and can help out in an emergency.

For those of us in the allergic adult world, however, it's often a battle to make sure meals are safe, and a struggle to communicate that even a tiny piece of almond could result in a life-threatening reaction.
But in that quest, with an allergy injector always by my side, I'm not alone.
E-mail to a friend