By Elizabeth Cohen
CNN Senior Medical Correspondent





(CNN) -- When Walter Jordan played for the Cleveland Cavaliers in the 1980s, he had top-notch medical care. Whenever he was hurt, a team physician materialized immediately. If he had any kind of health question, it was answered in no time.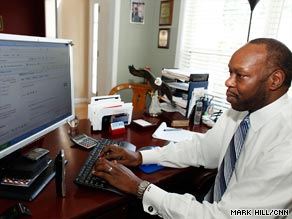 Former NBA player Walter Jordan uses Facebook to get in touch with his physician, Dr. William Cooper.
Fast-forward nearly 30 years: Jordan recently took a trip from his home in Georgia to New York to watch his daughter play in a high school basketball tournament. When he arrived at the hotel, he realized he'd left all his medications at home.
"Being a diabetic and a heart patient, I can't afford not to have my medications," Jordan said. "This happened on a Wednesday night, and I called my doctor's office first thing Thursday morning, and they were closed. Then I kept calling Friday, but I couldn't get a hold of anyone, and of course they were closed on the weekend. I never got my prescriptions, and when I got back home, I had some tests done, and my numbers were all bad."
Frustrated with closed offices, unreturned phone messages and other aspects of the sometimes-slow pace of doctor-patient communication, Jordan came up with a solution: He now sends his doctor messages on Facebook. He says that communicating with his cardiothoracic surgeon, Dr. William Cooper, on the social networking site has been easy and efficient.
"When I played with the NBA, I was blessed with the best medical care at my disposal," he said. "To have this relationship again, as a common citizen, is a great feeling -- even though this time it's via technology."
Jordan may be at the front edge of a trend: Surveys show that the traditional methods of communicating with doctors -- in person or on the phone -- may not be sufficient for patients anymore.
A study by Manhattan Research of nearly 9,000 U.S. adults showed that last year, 5 percent of respondents had sent or received an e-mail message to a doctor and that 49 percent were interested in doing so in the future.
A survey this year by the Deloitte Center for Health Solutions showed that 55 percent of consumers want to be able to communicate via e-mail with their physicians.
Although neither survey inquired about doctors and patients communicating via social networking sites, Deloitte plans to ask about it next time.
Don't Miss
"In our next survey, we're going to ask if their doctor does Facebook, if their doctor tweets," said Paul Keckley, executive director of the Deloitte group, referring to Twitter, another popular social networking site.
Keckley says he suspects that social networking will be much like e-mail: Patients are hungry for it, but doctors not so much.
"Doctors have a fear of anything that intermediates their direct relationship with a patient, and in some cases, that's code for 'I'd rather see you, because I get paid to see you,' " Keckley said.
But Dr. J. James Rohack, president of the American Medical Association, sees it differently. "Communicating with existing patients online can add value to the patient-physician relationship, however there are certain aspects of medical care that cannot be handled virtually," Rohack wrote in a statement.
For example, Rohack says, although a doctor can sometimes diagnose illnesses and treat patients electronically, most of the time, it's medically inappropriate. A face-to-face interaction to allow for "the nonverbal communication" and a physical examination are needed for most diagnosis and treatment, he wrote.
Dr. Facebook
Jordan's physician says he doesn't use Facebook to diagnose and treat; he uses it for housekeeping tasks, such as prescription refills, and for answering general health questions.
"I got out on Facebook because my 14-year-old daughter is on it, and I wanted to see what she was doing," said Cooper, an assistant professor of cardiothoracic surgery at Emory University School of Medicine. "It's only been four or five months, and I have 700-plus friends. Now, I see the power of social networking."
For example, when pop star Michael Jackson died after going into cardiac arrest in June, Cooper received several Facebook queries about the condition, many from people who were not even his own patients. On his "wall" -- the space on Facebook that all "friends" can see -- he posted an explanation about the difference between cardiac arrest and heart attacks.
For more personal questions, his patients use Facebook's private messaging system.
"If Dr. Cooper's online, I can always reach him with a quick question, and he responds right back," Jordan said.
Marianne Sullivan, a bridal store owner in Orange County, California, found Facebook useful when she awoke in the middle of the night with a painful eye that was swollen shut.
Her husband, Kirk Sullivan, suggested that she send their physician, Dr. Brian Boxer Wachler, a message on Facebook. She sent him a message at 5:30 a.m., and he quickly replied that she should come into the office as soon as it opened. It turned out she had an eye infection that required antibiotics.
The Sullivans, who met online, say that communicating with their doctor via Facebook is simply an extension of the other online activities they do every day. Plus, they say, having their doctor as a Facebook friend gives them a feeling of personal connection.
"Our doctor put up videos of his two toddlers dancing on his Facebook page," Kirk Sullivan said. "It totally cracked us up. It sort of brings bedside manner to cyberspace."
Finding an e-friendly doctor
Although you might want to friend your doctor on Facebook, be aware that not all physicians will warm up to the idea of having patients watch their family videos.
For example, Dr. Sachin Jain, a resident physician at Brigham and Women's Hospital, wrote last month in the New England Journal of Medicine about receiving a Facebook friend request from a woman whose baby he'd helped deliver three years earlier.
Jain accepted the request, but with hesitation. "I was curious to hear about the progress of her baby, but I wondered about the appropriateness of this interaction," he wrote.
Health Library
In addition to concerns about blurring the line between the personal and the professional, some doctors may worry about blurring the line between work and private life, wary of the expectation of being instantly available 24/7.
Additionally, there are compensation issues: Using Facebook, tweeting and e-mailing gobble up time, and insurance companies are only just now beginning to reimburse doctors for time spent communicating with patients online.
Susannah Fox, associate director of the Pew Internet Project, says that if you want to communicate with your doctor electronically, you might have to first explain why the current methods of communication aren't working for you. After all, doctors aren't usually aware of the phone tag you play with their staff members or the difficulty you might have getting medical records from one office to another.
She says that if your doctor won't friend you on Facebook, ask whether you could e-mail him or her, or whether there's a secure Web site where you can communicate, something many universities and large health systems now offer.
"You don't have to friend them," she said. "The doctors may want to manage this a little more at arm's length."
E-mail to a friend

CNN's Sabriya Rice contributed to this report.
All About Facebook Inc. • Pew Internet & American Life Project • Michael Jackson • Twitter Inc.