By Val Willingham
CNN Medical Producer





(CNN) -- Pick a day -- any day -- and you'll probably find Sean Bugg on the courts. A tennis fanatic, he's been playing the sport since he was 9 years old. Now at age 41, Bugg is definitely feeling the pain from his game.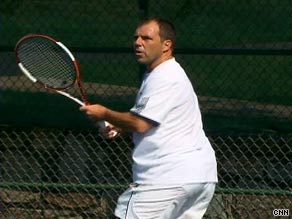 Sean Bugg, 41, has been playing tennis since he was 9. Despite injuries, he continues to hit the court.
"I've had elbow injuries, shoulder problems, sprained ankles, stiff wrists, pretty much everything has hurt at one time or another," he confesses. "And sometimes I still feel it." In fact, he packs three different braces -- two for his feet and one for his arm -- along with his other gear when he plays, just in case.
A lot of people may wonder if Bugg is an obsessed, racket-wielding masochist. Sports medicine specialists say no. They say Bugg is like plenty of other tennis players: He just loves the game. Unfortunately, tennis goes hand-in-hand with injury.
According to the American Academy of Orthopaedic Surgeons, more than 78,000 tennis-related injuries are treated in hospitals, doctors' offices, clinics, ambulatory surgery centers and hospital emergency rooms every year. Although some of these injuries are accidental, many are the result of poor form, poor conditioning, poor equipment or poor flexibility.
Dr. George Branche, an orthopedic surgeon in Northern Virginia and the medical director of the Legg Mason Tennis Tournament in Washington, D.C., knows all too well the injuries that tennis can cause -- he's a player himself. He says displaced hips, torn ligaments, even back problems can happen to the most seasoned pros, such as Andy Roddick and Roger Federer.
"So you can imagine the injuries in nonprofessionals," Branche says. "Unless you're in the best physical condition to handle the directional changes and pounding, it will take a big toll on your body."

Watch more on how to prevent tennis injuries »
Branche says professional tennis players tend to suffer from chronic injuries that affect the back, shoulders, hips and knees. A lot of those injuries, Branche says, are due to the long tennis season and the technique of the player. Among amateurs, acute injuries are more common -- such as twisted ankles, torn tendons and foot injuries -- because many of these athletes are not in the proper shape.
So, what is the best way to avoid injury? Orthopedists recommend starting with some simple stretches. Studies have shown that cold muscles are more prone to injury. "Tennis involves a lot of spontaneous motion. You don't know where your opponent is hitting the ball," Branche says, noting that flexibility is critical to the sport. "There's a lot of reactionary movement. There's a lot more stress on your body than if you know which direction you are going."
Don't Miss
Sports medicine physicians also say to be aware of the type of court you play on. Professional tennis players play on different surfaces (grass, clay, asphalt or synthetic) throughout the year and train accordingly. Grass and clay are the softest -- and the easiest on the body. Weekend warriors tend to play on harder surfaces. The harder the surface, the less "give" it has, leading to more injuries.
Bugg says he usually plays on asphalt, and after a two-hour game, he can feel it in his lower back. He was pleasantly surprised when he played on a clay court a few weeks ago, while on vacation in Cape Cod, Massachusetts. He found that even after hours of tennis, his back didn't hurt.
Doctors say Bugg's experience is not unusual. To cut down on lumbar injuries, they recommend wearing heel inserts to absorb the shock when playing on hard surfaces.
Health Library
Also, experts say, pick your equipment carefully. Branche stresses proper shoes and the right racket are crucial for a healthy game. "There are a lot of different rackets these days," he says."You need to look at how they are weighted, how you string your racket -- those are all variables that can influence how you can play."

Bugg says a lot of his injuries have been caused by impatience. Although hurt, he would return to the court before being fully recovered. Branche says that's a huge mistake. "Any athlete, professional or non, needs to allow time to heal before going back to any game," he warns. "You could reinjure yourself or injure other body parts that aren't as conditioned as they should be."
Bugg suspects he should cut back on the number of hours of tennis he plays. He's thinking about taking lessons to help with his backhand and overall form. He wants to improve his game -- not only to win more matches, but to stay healthy so he can stay in the game for a long time to come.
E-mail to a friend

All About Tennis • American Academy of Orthopaedic Surgeons