By Brent Swails
CNN





SAO PEDRO, Brazil -- For generations the residents of Sao Pedro, Brazil and neighboring Candido Godoi have known their isolated hamlet in southern Brazil was special.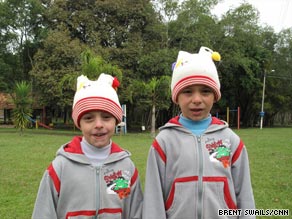 Twins Lenardo and Edwardo, six, are just one of the 40 pairs of twins in the hamlet of Sao Pedro, Brazil.
They say about a decade ago the rest of the world figured it out too. Since then, despite the remoteness, they've been visited by researchers, authors, journalists and even a few tourists.
We saw the print articles, we knew the story; 40 pairs of twins in just a four kilometer stretch of land. But it sounded too good to pass up. It was something we had to see for ourselves.
So when we landed in Rio de Janeiro, it was the first story we set out to cover. A second flight to the southern city of Porto Alegre and then what turned out to be a ten hour drive and we finally found ourselves in "the Land of Twins."
On a foggy, misty, winter morning we set out to find the residence of Paulo Sauthier, who like many here can trace his roots to the area's first European settlers. And like many, is a twin.

Watch the Vital Signs' team report on the twins phenomenon »
The area around Sauthier's home is unassuming, rural farmland. And at the time we arrived, there really wasn't much to see, just Paulo in his front yard, ready to greet us. But then through the mist they came, car after car, twin after twin. There was Cladis and Clovis, John and Javan, Lenardo and Edwardo.
Vital Signs
Each month CNN's Dr. Sanjay Gupta brings viewers health stories from around the world.


Over Sunday brunch they talked about the mystery surrounding the twins. They told us, it was an attitude. Women here just sort of expect to have pairs. They say even the cows are twins.
The explanations for the phenomenon are numerous. Healthy lifestyle and healthy food are popular. Even more popular, they say, is the existence of a magical mineral in the town's water.
They seem in no hurry to crack the mystery, content in their uniqueness.
Geneticist Ursula Matte, has been studying the twins of Sao Pedro and Candido Godoi off and on for over a decade.
"You have what in genetics is called a founders effect," Matte told CNN.
"Propagated because there aren't too many people coming from the outside to this community."

Matte says the answer almost certainly lies in genetics. She is currently studying blood samples in hopes of isolating the gene responsible.
But until then, the mystery remains, which seems to be just alright, with residents in "the Land of Twins."
E-mail to a friend