By Madison Park
CNN





(CNN) -- "Look, we had some great times together and a lot of fun," Natasha Bishop said. "But now I feel we are moving in different directions and I need to end this relationship."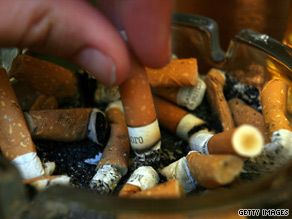 Smokers often have difficulties quitting tobacco use, which is estimated to kill 443,000 people every year.
With that, she crushed her final smoldering cigarette and tossed out the remaining pack of Camels. After a 10-year relationship, Bishop broke up with her cigarettes.
Even with nicotine gums, patches, prescription drugs, cessation classes, many struggle with quitting -- even the leader of the free world. CNNhealth asked iReport contributors what advice they would give to the president about quitting tobacco.
In a news conference this summer, President Obama said he was "95 percent cured" of his smoking habit. "As a former smoker, I constantly struggle with it," the president said. "Have I fallen off the wagon? Yes."
This summer, the president signed a new legislation giving the U.S. Food and Drug Administration the power to regulate the manufacturing, marketing and sale of tobacco products.
Last week, the FDA opened its new Center for Tobacco Products, which will enforce advertising restrictions and set public health strategies to reduce illnesses and deaths caused by tobacco products. The new center was established shortly after the passage of the Family Smoking Prevention and Tobacco Control Act, which enables the FDA to review new tobacco products before they can be sold.
Obama said the new regulation of tobacco "is not about me. It's about the next generation of kids coming up."
Dr. Michael Fiore, director of the Center for Tobacco Research and Intervention at the University of Wisconsin in Madison, said Obama's struggles with smoking show the power of tobacco.
"If a man this accomplished is still struggling with this addiction, it speaks volumes regarding how powerful this addiction truly is," he said.
The Centers for Disease Control and Prevention estimates cigarette smoking results in approximately 443,000 annual premature deaths. Cigarette smoking accounts for at least 30 percent of all cancer deaths, according to the American Cancer Society.
Many iReporters who once smoked told CNN they were aware that smoking was an expensive habit with risks such as emphysema and cancer, but they couldn't quit.
Bishop started smoking in college when she was "stressed and needed something with my coffee in the morning and beer at night." After several attempts to quit, the 30-year-old Los Angeles, California, resident turned to hypnosis.
A hypnotherapist advised her to have a break-up conversation with the cigarette. So two years ago, she stepped outside and puffed her final cigarette and said goodbye. The one-sided conversation "cemented the fact that this was it," Bishop said. She likened it to human break-ups.
"Until you actually have that conversation, and say it out loud to each other, there's always that little part of you that thinks, maybe we'll get back together," she wrote. "Let's face it. Getting back together with an ex is like throwing milk in the garbage and three days later thinking... maybe it'll be better this time around."
The hypnotherapist used an exercise and told Bishop she would stop craving cigarettes anytime she saw the color red. After the session, she noticed red everywhere -- tail lights, street lights, a scarf. For two years, Bishop hasn't smoked.
"My teeth are white again," she wrote in her iReport submission. "I run a few miles a day, I have more energy at 30 than I did at 25."
Other iReporters described various, quirky methods of trying to quit. While some methods may be more scientific than others, all techniques, says Fiore, require one thing.
"What is at the core of succeeding is a real powerful commitment on the part of people. ... None of the treatments is magic, including counseling and medicine. It still requires hard work. The goal is to quit, however it happens."
Research shows counseling and FDA-approved anti-smoking drugs are the most effective ways to quit, Fiore said. A 2008 U.S. Public Health Service report says "clinicians should encourage all individuals making a quit attempt to use both counseling and medication," according to Fiore.
Donna LeBlanc of Lafayette, Louisiana, started smoking when she was 13. By the time she was 15, she smoked two packs a day.
"When you smoke, smoking gives you that ahhhh feeling," said LeBlanc. "It's a stress release. I was a big stress smoker. I would smoke whenever I was under pressure."
Since 1993, she tried to quit using gums, patches, inhalers and homeopathic remedies. She failed -- 18 times. Tired of the constant battles, LeBlanc vented her frustrations in an online support group in 2006 and also turned to Chantix, an anti-smoking medication. Smoking cessation drugs, Chantix and Zyban carry warnings about the risks of serious mental health events including changes in behavior, depressed mood, hostility, and suicidal thoughts.
LeBlanc said Chantix made the cigarettes taste like a piece of wood. "Cigarettes were losing their punch," she said. "There was no ahhh feeling. It took away the reward you got from smoking in the first place."
She craved holding something in her hands, so she cut a plastic beverage straw and twiddled it like a cigarette.
"That physical need for it, to have something in my hands, it provided a security blanket for me," LeBlanc said.
In 2006, she puffed her last cigarette and quit the addiction she had for more than half of her life.
E-mail to a friend

All About Barack Obama • Smoking • Food and Drug Administration