LONDON, England (CNN) -- We received hundreds of questions from you for The Clinic live Webcast, hosted by Dr Sanjay Gupta on August 23. Here are the best questions and the all important answers from our panel of cancer experts.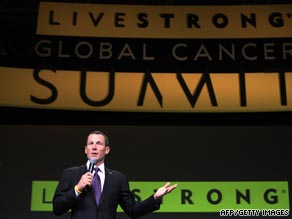 Lance Armstrong launches his foundation's three-day Global Cancer Summit in Dublin, Ireland.
Question from Davine Askin, London: Are there cancers that are found to be more hereditary than others?
Bjarte Reve, CEO Oslo Cancer Cluster, Norway: Yes, I would like to point out that for breast cancer there is an increased risk if your mother has had it for example. The daughters of mothers who have had breast cancer should be especially precautious.
Doug Ulman, President, Lance Armstrong Foundation: We know that with breast cancer there is an increased risk in some genetic mutations. One of the cancers I had is melanoma and there are familial syndromes with melanomas that if a member of your family has had a melanoma you are more at risk.
Question from CNN.com/blog: Ovarian cancer is usually caught late. What is currently happening to diagnose this sooner in patients?

Watch the The Clinic: Global Cancer Summit »
Bjarte Reve, CEO Oslo Cancer Cluster, Norway: This is a real key question if you are look at the developing world. One example is from Ethiopia where they have just four oncologists trained to diagnose cancer patients. They tell me that these women [with ovarian cancer] are so stigmatized that they are put in separate parts of villages and are sent away from their families because there is so much stigma around the disease. Training health personnel in early diagnosis of cancer might be the most important thing we can do.
Don't Miss
Dr Ala Alwan, Assistant Director-General of Non-communicable Diseases and Mental Health at the World Health Organization: It's very unfortunate that there is no effective screening test for ovarian cancer, but there is a lot of ongoing research on this issue -- I know that there are a number of trials using sophisticated ultrasound techniques to try and see if we can come up with reasonably effective methods of detection.
I think family history is very important, I think we mentioned some examples of hereditary cancers and I think ovarian cancers have a small proportion where the genetic factors are important. The fact that there are some rare genetically determined cancers highlights the need for educating healthcare professionals of taking a good family history.
Question from a roving camera in Hong Kong, China: What percentage of people with cancer get cured?
Dr Gupta: Dr Rajagopal, if you live in India versus the United States, is the answer to that question different?
Dr M.R. Rajagopal, Palliative care physician, India: Very much so. What I see in the textbook -- two thirds of cancer can get cured - has no meaning for 80 percent of the globe. We all know they can get cured if they get diagnosed early and if the system attends to it. I know of so many people who do get diagnosed early but still don't have the means. And in the developing world treatment costs are out of the pocket. There is no insurance and no socialist medicine. So they go back to work for as long as they can.
Bjarte Reve: In Norway, 85 percent of young adults and children are cured because we have a strong public health system with good cancer research. But if you look at Africa 100,000 -- as an estimate -- die of cancer every year. Only around 10 percent of those get any treatment.
Vital Signs
Each month CNN's Dr. Sanjay Gupta brings viewers health stories from around the world.


Dr Ala Alwan: If we take the breast for example we have survival rates which are quite high in the industrialized world at 80-85 percent. But in the developing world overall you have survival/cure rates of around 40 percent. To get cancer cured depends on two things -- to detect it early and to have a healthcare system that can allow timely and effective treatment. A lot depends on the healthcare system, how professionals are trained to detect cancer early and also to refer it. This is one of the major problems in low resource settings. Cancer is not included in the priorities of development agencies. And frankly speaking cancer and heart disease, stroke, diabetes are not included in the agenda of donor countries.
Question from Sound Off: As a teenager interested in a cancer-related career, I know a lot more about cancer than most teens or kids. Why isn't cancer prevention taught in schools?
Doug Ulman: When I was diagnosed at 19 I realized that I had been taught anything about cancer. I was so naive to this disease. I remember learning a little bit about HIV AIDS and Heart disease but not about cancer. If we want to remove the stigma we've got to teach children about this disease -- the basics, that it isn't contagious, it's survivable that it's not a death sentence and that you can be a supportive member of a family that is dealing with a cancer diagnosis. It's also a moral and ethical issue. If we don't educate people about this disease we are failing as a society.
Dr Rajagopal: People want to know about cancer, no doubt about it. Students, the man on the street, they really want to know about it. It's just that the medical system has no time to teach them. We are practically telling them: We have no time to tell you about cancer and no time to detect it early.
Question from Dr Gupta to the panel: If you had to give a piece of advice to a patient, a colleague, a friend, what would you tell them, aside from the obvious one of not smoking.
Dr Rajagopal: I honestly think that rather than advice there should be a concerted effort of offering information, empowering people and ensuring support.
Doug Ulman: Most importantly, cancer enters your body, but you cannot let it control your life. Knowledge is power. Unity is strength. Attitude is everything.

Dr Alwan: We should give advice about healthy eating. Less fat, less free sugars, avoid obesity, drink in moderation, exercise regularly and do not to engage in activities which would increase your risk of contracting sexually transmitted diseases.
Bjarte Reve: I would like to offer a little different piece of advice. Try to talk to your local politician or your national politician because in most countries cancer is not the priority. Even in a developed country like Norway it's not the top of a politician's priority. And it's much worse in developing countries in Africa.
E-mail to a friend

All About Cancer • Vital Signs Inc.