By Madison Park
CNN




(CNN) -- Before Friday night lights, there is summer suffering.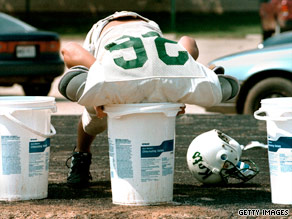 A high school football player cools off at practice by dunking his head in a bucket of ice water.
For generations, the rite of twice-daily summer football practice endured. In August, players would report as early as 7 a.m., work hard for a few hours, eat to get ready for more football, and then drill again in the afternoon. The athletes, often wearing 15 pounds of gear, would run plays, crushing and tackling each other under the scorching heat.
But in recent years, the ritual of two-a-days has come under scrutiny as heatstroke deaths have increased. On Monday, a high school coach from Louisville, Kentucky, will go to trial on charges of reckless homicide and wanton endangerment in the heat-exhaustion-related death of one of his players.
As medical understanding of the risks of heat exertion has advanced, more teams have instituted water breaks. And new technology allows for better tracking of young athletes' body temperature.
That's a far cry from the philosophy that held for decades.
"Anyone that tells you they enjoyed two-a-days, they're lying or insane," said Bill Curry, who played football for 20 years and is now Georgia State University's first football head coach. "We felt like it was a condition of employment. You're not going to be tough or great unless we did it. It was a macho gladiator thing. We just sucked it up."
Curry was coached during his Green Bay Packers years by the legendary Vince Lombardi, whom he described as "demanding and very emotionally draining." Lombardi held two-a-days without water breaks, but the practices were short, said Curry, a former NFL center. His most demanding boss was NFL Hall of Fame coach Don Shula, who demanded six weeks of two-a-days.
"We wore pads for both practices. It was a 100 degrees and no one died," Curry said. "We won virtually every game. The smartest coaches are the ones who knew how to push, but also knew when to back off. That's the difference."
But sometimes coaches can get in trouble for pushing too hard.
A 15-year-old student at Pleasure Ridge Park High School in Louisville, Kentucky, collapsed in practice last year and died three days later. His temperature reached 107 degrees and witnesses said the coach, Jason Stinson denied the student water on that hot August day, according to CNN affiliate WLKY. The station reported Stinson pleaded not guilty at the arraignment. WLKY: Coach faces trial
The Kentucky case is one of the recent heat-related fatalities in football that made headlines. Since 1995, 39 football players have died in heat-related deaths, triggering new practice guidelines, wrongful death lawsuits and even criminal charges.
Last year, six football players died from heatstroke -- four of them were high school students, according to the Annual Survey of Football Injury Research. "There is no excuse for any number of heatstroke deaths since they are all preventable with the proper precautions," the report authors wrote.
To address heat concerns, the National Collegiate Athletic Association in 2003 prohibited two-a-days on consecutive days and during the first five days of practice. The National Athletic Trainers' Association suggested similar guidance in June. Guidelines for high school football vary by state.
"We developed the guidelines for the health and well-being of athletes," said Douglas Casa, who served as co-chair of the trainers task force that implemented the guidelines. "This was certainly not done for the convenience of coaches."
Casa said NCAA Division I successfully implemented guidelines for two-a-days and said, "I'm thinking that high schools could do it."
The association does not advocate ending two-a-days, but recommends getting the players used to the heat during the initial days of practice. The association's position sparked immediate controversy.
Some coaches say two-a-days are time-honored and necessary to prepare for the season. Coaches say more practice means the athletes will learn the plays better and build stamina to last through four quarters. And some say the extra practice helps condition athletes who arrive to training camp out of shape.
"You can't rely on 15-year-old kids to get themselves into condition to play," said Brian Bruch, an assistant coach at Dunedin High School, in Dunedin Florida. "Your linemen have been eating Twinkies or playing Xbox till the minute practice started."
Grant Gower, the head coach at Deer Creek High School, in Edmond, Oklahoma, said his school stopped having two-a-days about five years ago, because practice was not about "the length of time, it's what you get done in the time you're out there."
Former players liken two-a-days to complete misery, but say it helped the team bond. Jesse Harms recalled how the Florida air felt like thick steam and the heat waves rippled on the field. Despite the agony in his chest and legs, he enjoyed the high school experience.
Some of his teammates complained, but "most of the environment is feeling great anticipation for the season," Harm said. "Everyone is hot, sweaty, and going through it together. ... I'm pro-two-a-days as long as they're done with safety as the paramount concern."
Health Library
Some schools have invested in new technology to monitor their football players' health. A company called Hothead Technologies created sensors that are embedded into football helmets to monitor an athlete's temperature. The device alerts the coach when a player's temperature reaches over 102.5 degrees.
Beth Higbie, director of research and sports science at Hothead Technologies, said coaches can't watch every player for possible health problems. "The ultimate goal is to alert the coaches and trainers that we might have an issue," she said.
Medical experts and coaches have different theories regarding why more heatstroke fatalities have occurred, despite increased attention on players' health.
When Willie Tillman played on Purdue University's football team, he had three-a-days. During his high school and college years, water deprivation was common practice. Yet, Tillman never had a heat-related injury as a player.
"I really believe we're dealing with different athletes," said Tillman, a defensive coordinator for at Merritt Island High School in Merritt Island, Florida.
Casa, director of athletic training education at the University of Connecticut, in Storrs, Connecticut, said today's players struggle getting acclimated to the heat. Players in the past played or worked outside in the heat in manual labor jobs or in farms. Today, people stay indoors more and have air conditioning.
Curry has a similar hypothesis. Referring to his days on the field, he said, "The reason more of us did not die from heat -- we didn't have air conditioning. Our bodies were accustomed to perspiring all the time. We weren't acclimated to 70 degrees, we were acclimated to 90."
E-mail to a friend

All About Football • College Football • Exercise and Fitness