By Andy Rose
CNN





(CNN) -- Scientists have known for some time that people who constantly worry tend to die at a younger age than others, but the cause wasn't clear.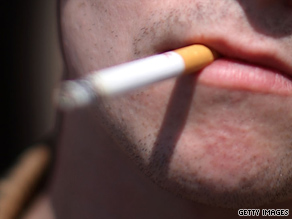 A new study suggests chronic worriers' death rates at younger ages could be tied to their smoking levels.
Now, a new study suggests that a higher level of smoking is a key reason.
The report, funded by the National Institute on Aging, finds that 40 percent of the increased mortality among people classified as highly neurotic can be attributed to smoking.
"Smoking explains part of the effect of personality on mortality," says Daniel Mroczek, a family studies professor at Purdue University in Indiana. His research, conducted in cooperation with the Veterans Administration, is published in the Journal of Research in Personality.
Neuroticism refers not only to anxiety, but also to being highly sensitive to stressful situations. Mroczek says many neurotic individuals appear to find that smoking relaxes them and dulls that sensitivity.
"When you're ... feeling negative and anxious and worried, sometimes for some people, a cigarette can alleviate that," Mroczek tells CNN Radio.
Don't Miss
The mortality rates show the danger of giving in to that temptation. The study authors believe smoking prevention and cessation programs can be more effective when specifically aimed at people whose personalities can lead them to cigarettes.
"You probably don't need to target everybody. You can target certain segments of the population that are more likely to smoke than others," says Mroczek.
The study leaves the remaining 60 percent of increased mortality from neuroticism unexplained. Mroczek suspects chronic worriers are also more susceptible to other self-destructive behaviors, such as overeating.
But he says more study is needed to make sure there is not a biological factor causing some neurotic people to have a greater risk of death.

E-mail to a friend

All About Smoking • Anxiety and Panic Disorders