By Val Willingham
CNN Medical Producer





(CNN) -- Beverly Hunt is a mover and a shaker. A public relations executive who runs her own business in Laurel, Maryland, Hunt believes in looking good. She keeps active and stays in shape.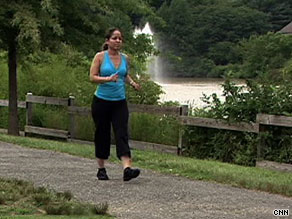 Try as she might, Beverly Hunt could not get rid of her cellulite.
But she has one slight problem that drives her crazy: No matter how much she exercises, she can't get rid of her cellulite.
"I'm in my mid-40s," she admits. "And no matter how well you try to take care of yourself and what your weight is, what I've noticed is your body changes. And I have some cellulite, predominantly on my thighs."
Cellulite: the word women fear and men rarely notice. More than 90 percent of women develop some type of cellulite in their lifetime, while few men ever experience "cottage cheese" thighs.
Doctors believe that's because estrogen plays a big role in cellulite formation: It appears that excess estrogen causes a weakening of connective tissue, which allows fat to bulge up under the skin, creating cellulite.
"Whether they're thin or heavy, a gym rat or a couch potato, cellulite is one of those things most women face," says Dr. Howard Brooks, a professor at Howard University in Washington, D.C., and the director of Skin Cosmetic Dermatology of Georgetown. "It doesn't matter if that woman is black, white, Asian; it doesn't matter if that woman eats right, does everything right -- cellulite can still develop."
Because it can be genetic, doctors say one of the best ways to judge how much cellulite you'll develop as you get older is to look at your mother's thighs.
"I would say that there is a bit of cellulite that runs in the family," Hunt admits with a grin.
Brooks says there are a couple of things you can do to curb your cellulite:
Quit smoking. Lighting up damages connective tissue, which causes wrinkling.
Watch your weight. Fat is fat; the more fat you carry, the more cellulite.
Exercise the legs and buttocks. "Instead of all these fancy creams and quick fixes, invest in a treadmill," Brooks says. He explains that exercise can firm up the skin. Cellulite is "still there, but it decreases the appearance," Brooks says.

Health Minute: Battling those ripply bulges »
Eat smart. But Brooks says no particular food can increase or decrease cellulite. "Diet does not really play a role," he says. "I say that, but I say that with a caveat: You do want to -- just for general health purposes -- eat right, of course." Maintaining a healthy lifestyle decreases the appearance of cellulite.
Don't Miss
Because women hate the look of cellulite, myriad "treatments" and "cures" have been hyped, ranging from dietary supplements and cellulite creams to mechanical procedures. But health experts agree: There are no permanent solutions.
Although the American Academy of Dermatology addresses the myths surrounding cellulite and its many supposed cures, the group offers no advice for how to get rid of it. The AAD warns women that liposuction, a very popular procedure for removing excess fat, does not rid the body of cellulite. That's because after liposuction, fat eventually replaces itself in the body. Liposuction can actually make the appearance of cellulite worse by physically breaking down the connective tissue, which creates even more depressions in the skin.
There are two FDA-approved laser treatments designed to break down fat to temporarily reduce the appearance of cellulite: One combines light therapy with suction; the other combines light therapy with massage. The drawbacks? Both treatments require multiple sessions -- as well as maintenance therapy -- to create and maintain the effect. And they are expensive: A series of treatments can cost more than $2,000, and the results are temporary.
Although Brooks tries to explain to his patients that cellulite is one of those things that "you have to live with," he will recommend the FDA-approved treatment consisting of massage and laser treatments -- but only to patients who are desperate to get rid of their dimples and are willing to pay the high price.
Health Library
"The reason why this works is, we're squeezing that tissue and squeezing that fat and cellulite so hard that we're re-dispersing it and it's no longer in the top layer of the skin -- it's at the bottom layer, so we can't see it any longer," Brooks explains. "But unfortunately, this isn't permanent, and you need a lot of treatments. There is no miracle."

But Beverly Hunt believes in miracles; she is currently undergoing massage with laser treatments. She feels it's worth it. Anything, she says, to rid her fit body of the puckering on her thighs -- even just for a little while.
"Well, it's not a good look," she says of cellulite, especially in bathing-suit season. "It really isn't. I'm at the age where one-pieces are a must, but I'd like to know that -- if you take the time to exercise and you attempt to eat right -- you'd at least look healthy."
E-mail to a friend

All About Smoking • Exercise and Fitness • American Academy of Dermatology