(CNN) -- Do you have fears or concerns about cancer? Have you or anyone in your family been diagnosed with the disease?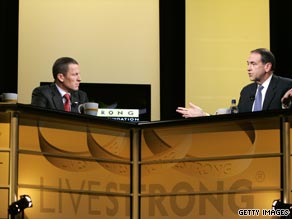 The Livestrong Global Cancer Summit will share ideas on treatments for cancer.
Now is your chance to put your questions to some of the world's leading cancer experts.
On Sunday August 23, CNN Chief Medical Correspondent Dr. Sanjay Gupta is hosting The Clinic, a roundtable of cancer experts, advocates and researchers from around the world.
Send them your questions via iReport, e-mail or tweet it to Dr. Gupta directly. You can also leave comments in the Soundoff box below.
The best ones will be put to the panel who will answer them LIVE on CNN.com.
They'll provide a candid look at cutting-edge cancer treatments and offer advice to viewers fighting this disease.
Tune in to The Clinic live Webcast on CNN.com, August 23 at 3pm GMT, 4pm BST or 11am (ET) to hear Dr. Gupta and top cancer experts answer your questions.
The Clinic is being held as part of the LIVESTRONG Global Cancer Summit taking place in Dublin from August 24 to 26, 2009.
For the first time, world leaders, doctors, researchers and advocates will come together to share new ideas and treatments at the summit and make commitments that will change the trend of cancer today.

Cancer doesn't discriminate. It affects men, women, and children of all ages and nationalities.
In fact, cancer will take over as the world's leading cause of death by 2010. It accounted for 7.9 million deaths in 2007, according to figures from the World Health Organization.
E-mail to a friend