By Madison Park
CNN





(CNN) -- The thick shoes come with a big promise: to chisel the butt and legs.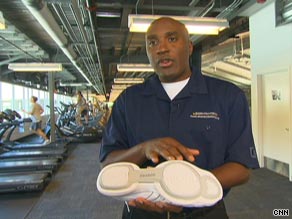 Instead of following latest fads, Dr. R. Amadeus Mason advises finding comfortable shoes, regardless of brand.
In a growing trend, "toning shoes" are being sold with claims that wearers can tighten and shape their lower-body muscles just by walking in the shoes. And ads have suggested that they make the gym obsolete.
But these oddly shaped shoes have their share of medical skeptics who say there have not been legitimate, independent studies proving the benefits of these types of shoes over traditional pairs.
Although the designs vary, the shoes generally have pods or curves in the bottom that create instability. That imbalance, shoemakers say, causes about 11 to 41 percent increased muscle activity in the legs, glutes and calves.
But some foot specialists find the shoes to be clunky, heavy and unstable. Dr. Paul Langer, a podiatrist at Minnesota Orthopaedic Specialists, has a pair of toning shoes that he wears as an experiment.

Dr. Sanjay Gupta looks at toning shoes »
"I can say that after a day in clinic, my legs feel tired and the shoes feel heavy (they are much heavier than conventional shoes)," he wrote. "Because the shoes are unstable, muscles must [work] harder to stabilize the foot and leg. I would never propose that these shoes would replace a conventional fitness routine."
Choosing fitness shoes
When looking for a pair of fitness shoes, the key is comfort. One expert offers these tips:
1) Regardless of the brand, seek the one that's comfortable to you.
2) Check to see that the heel is perpendicular to the sole of the shoe.
3) The shoe should have medium firmess, not too soft or hard. It should be somewhat bendable.

Source: Dr. R. Amadeus Mason, Emory Sports Medicine Center
Skechers markets its Shape Ups shoes to "get in shape without setting foot in a gym." Various companies' claims range from reducing back pain, reducing cellulite and improving posture to promoting weight loss. Reebok advertises its EasyTone sneakers with "nice booty. great sole." Most of the shoes are marketed toward women.
Pete McCall, an exercise physiologist with the American Council on Exercise, said claims that the shoes make a gym obsolete are "definitely far-fetched." But research has shown that the brief moments of instability in the feet cause muscles to work harder, he said.
"If you have a moment of instability, what happens is the muscles counteract by working to create stability -- in theory," he said. "Whether the shoes or soles create a mechanical advantage, that's the marketing hype."
Although there have been small studies showing increases in muscular activity with the use of curved soles, Dr. Bruce Williams, a podiatrist and a past president of the American Academy of Podiatric Sports Medicine, said: "My point is that it's not necessarily beneficial even though there's an increase in muscular activity."
For example, a person who limps may have an increase in muscular activity.
"Their primary complaint at the end of the day after walking around the mall is that they hurt," Williams said. "So is that necessarily beneficial to them? No, not at all. ... I'm not a big fan of people relearning how to walk."
Williams cautioned: "There are lots of claims made by manufacturers of these shoes. Everyone has to take this with a grain of salt."
For years, people with foot or ankle problems have been prescribed "rocker shoes," in which the soles curve like the bottom of a rocking chair to transfer the workload away from joints and bones.
"People use that to rehabilitate ankles and work on your position stance, not your fitness or your strength." said Dr. R. Amadeus Mason, a sports medicine specialist at the Emory Sports Medicine Center. "To think that would then make you stronger or more fit with your regular activities -- I have a hard time buying that."
Dr. Fabian Pollo, director of orthopaedic research at Baylor University Medical Center in Dallas, Texas, said he's also unsure whether the benefits translate to someone who doesn't have a foot problem. The mechanics of the toning shoes could lead to greater muscle activation, but that doesn't mean that tried-and-true methods should be replaced.
"It's not a magic bullet of weight loss or toning your body," Pollo said. "It can lead to some of those possible benefits, but not to the extent you can replace exercise routine or diet."
Don't Miss
Fitflops, which are sandals with curvy soles, are described by the maker as "the flip flop with the gym built-in" because, the company claims, the sandals diffuse pressure on the feet and increase muscle engagement. Company representatives said the flip-flops are meant for walking and daily activities, not for use in a gym.
Reebok said independent lab tests showed that EasyTone shoes generated up to 28 percent more butt muscle activation, compared with ordinary sneakers, because of the mini balance balls in the bottom of the shoe.

In an e-mailed statement, Kristen Van Cott, vice president of creative strategy at Skechers, said that users of her company's Shape Ups "should notice your muscles being more toned, an improvement in your core strength, and weight loss." Skechers said it conducted a six-week test that showed Shape Ups users lost an average of 3.25 pounds.
"Everyone's study is really self-sponsored study, so there hasn't been a lot of independent research," said McCall from the American Council on Exercise.
E-mail to a friend

All About Footwear • Exercise and Fitness • The American Council on Exercise