By Heather Mayer





Need a reason to look on the bright side? A new study suggests that optimists' glass-half-full approach to life may actually offer some health benefits. Women 50 or older who are optimistic are less likely to get heart disease and die of any cause in a given time period compared to women their age who are more pessimistic, according to a study published recently in Circulation: Journal of the American Heart Association.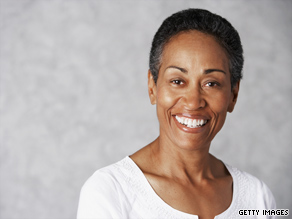 Optimists are less stressed and tend to assess, cope with the problem head-on, compared with pessimists.
"In the grand scheme of things, the real importance is recognizing and raising awareness of the link between attitude and health," said lead author Dr. Hilary Tindle, an assistant professor of medicine at the University of Pittsburgh, in Pennsylvania. Tindle says that pessimism may be as bad as having high blood pressure -- a well-known heart risk factor -- when it comes to cardiovascular health.
Overall, the most optimistic women had a 9 percent lower risk of developing heart disease and a 14 percent lower risk of dying from any cause compared to their most pessimistic counterparts over the course of eight years. Health.com: How stress can trigger heart problems
The study included 97,253 postmenopausal women ages 50-79 who were enrolled in the government-funded Women's Health Initiative; they were all healthy and free of cancer and cardiovascular disease at the start of the study.
The women were asked to agree or disagree with statements such as "In unclear times, I usually expect the best" and "If something can go wrong for me, it will." (Those who answered yes to the first statement would be considered optimists, and those who agreed with the second would be considered pessimists.)
Tindle explained that, in general, optimists tend to experience less stress than pessimists when faced with problems, and they tend to assess the situation, cope with the problem head-on, and mobilize support to solve issues, more so than pessimists. Health.com: A new prescription for happiness
However, only the most optimistic women (those who scored highest on the questionnaire) appear to have a survival advantage; such women had a 16 percent lower risk of stroke, a 30 percent lower risk of heart disease-related death, and a 24 percent lower risk of cardiovascular disease-related death than those who were pessimists.
The researchers took into account smoking, weight, physical activity, type 2 diabetes, and other factors that could influence the results. They did find that pessimists were also likely to have other heart risk factors such as being overweight and a sedentary lifestyle, though once they corrected for those, mood alone was still a factor.
"Pessimism in our study tended to have unfavorable risk profiles," Tindle said. "When you look at all of the risks, pessimists had everything in the wrong direction." Health.com: Cholesterol-lowering supplements: What works, what doesn't
Dr. Kirk Garratt, an associate director of the division of cardiac intervention and director of the coronary care unit at Lenox Hill Hospital, in New York City, agreed. "Nobody has a clear cut answer, but there's a strong sense that attitude impacts physiology," he said.
People may not think of mood as a classic risk factor for heart disease, but depression and other psychological factors are known to affect survival after heart-related problems, such as a heart attack, said Garratt, who was not involved in the study.
The researchers are going to study whether a change in attitude can help lower the risk of heart problems. Tindle, who scored in the mid-to-low range on the questionnaire, said she thinks people can change their attitude, if they try. Health.com: Simple changes to improve your mind, mood, and outlook
"People get better every day," she said. "The question is, can we take these ingrained attitudes and teach that individual to modify them?"
The study also found that women who were categorized as highly cynical and hostile were at an increased risk of death during the study period, but were no more likely to develop heart disease than their sunnier counterparts. Health.com: The top 5 cholesterol myths
E-mail to a friend

Enter to win a monthly Room Makeover Giveaway from MyHomeIdeas.com
Copyright Health Magazine 2009
All About Heart Attacks • Women's Health • Mental and Emotional Well-Being