By Danielle Dellorto
Producer, CNN Medical Unit





(CNN) -- Cancer doesn't discriminate. It affects men, women, and children of all ages, nationalities. This disease affects people in every corner of the world. Cases continue to rise.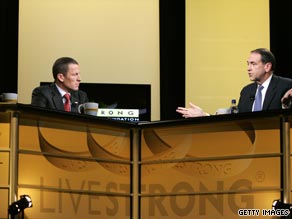 The Livestrong Global Cancer Summit will share ideas on treatments for cancer.
In fact, cancer will take over as the world's leading cause of death globally by 2010. It accounted for 7.9 million deaths in 2007, according to figures from the World Health Organization (WHO).
By 2030, WHO estimates there will be 17 million cancer related deaths worldwide. Lung, stomach, liver, colon and breast cancer cause the most deaths each year.
Now for the first time - world leaders, non-governmental organizations, doctors and researchers and advocates will join together to share new ideas and treatments in the LIVESTRONG Global Cancer Summit.
They'll make commitments that will change the trend of cancer today. The summit takes place in Dublin, Ireland from August 24 -- 26, 2009.
CNN's Chief Medical Correspondent Dr. Sanjay Gupta is traveling to Dublin to get your questions about cancer answered!
Gupta and a roundtable of cancer experts, advocates and researchers from around the world will answer YOUR questions LIVE on CNN.com.
They'll provide a candid look at cutting edge cancer treatments, and offer advice to viewers around the world fighting this disease. Be empowered and inspired to fight back against cancer.
Do you have any questions and concerns about cancer? You can email the experts your questions or send your video questions viaiReport or tweet it to Dr. Gupta directly.
You can also leave your questions and comments in the Soundoff box below.
Tune in to the live webcast on CNN.com, August 23 at 4pm GMT+ 1 (11am ET) to hear Dr. Gupta and top cancer experts answer your questions!
E-mail to a friend