By Deborah Brunswick
CNN





NEW YORK (CNN) -- Dr. David Ores, or Dr. Dave as he's referred to by his patients, isn't your average neighborhood doctor. It's not because his arms are covered with tattoos of nearly naked women or because he drives a Harley to work, but because eight months ago he started New York City's first health care cooperative for restaurant workers.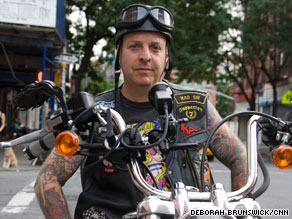 The Harley-riding Dr. David Ores has started New York's first health care cooperative for restaurant workers.
The Restaurant Worker's Health Care Cooperative, currently servicing 15 restaurants in lower Manhattan, provides free health care to all restaurant employees, from bus boys to bartenders. Every month the owner or manager of each restaurant contributes money into a common fund based on its number of employees. In return, their workers can go see Dr. Dave with any kind of health issue they may have.
Dr. Dave, a graduate of Columbia Medical School, has been treating uninsured people for more than a decade. He decided to start the co-op after noticing a trend among patients working in the restaurant industry.
"Over the past ten years, I've seen many patients that work in restaurants, and there were always two things in common: They had no real access to any kind of medical care, and they also waited a long time to come see a doctor," Ores says. "I decided to form this co-op in order to get them early, basic health care."

Watch the doctor at work »
The restaurant workers, many of whom have never been medically insured, can now make appointments, stop by the office, text medical questions and even send photos of their injuries to Dr. Dave, free of charge.
"This is my first checkup ever," Asaf, a waiter at Macao Trading Co., told CNN in the waiting room. "It's an example of how someone finds an easy and fair solution to a serious problem or a need."
And statistics show there is, in fact, a need.
Don't Miss
According to a 2005 study by the Restaurant Opportunities Center of New York, about 73 percent of all New York restaurant workers -- about 160,000 people -- have no health insurance.
The co-op comes as a relief to restaurant owners who would ideally like to provide medical insurance to their employees but cannot afford to do so.
"Obviously we want to take care of our people, but financially we're only capable of doing so much," says restaurant owner Billy Gilroy. "This was the perfect opportunity to be able to extend the ability to find medical services through the restaurant, but in a way that's affordable."
The price for use of the co-op's services ranges from as little as $50 a month for an establishment with a couple of employees to $400 a month for a larger restaurant.
Dr. Dave, who works as a general practitioner and sees other patients, is able to support himself because both his office and apartment are located in rent-stabilized buildings operated by the Lower East Side People's Mutual Housing Association, a not-for-profit housing group that charges him only $800 a month for rent.
With health care currently a hot-button political issue, Dr. Dave sees this local, not-for-profit health system as a model for how national health care in America could work.
"I'm not against profit," he says. "I just don't think you can have a for-profit health system that provides everyone with proper health care. It's just never going to work."
In the meantime, Dr. Dave has plans to expand.
"In the next year I'd like for our little health co-op to offer more services. Maybe dental, more hours in the evening, maybe hire a second doctor."
He also hopes to offer routine checkups for all workers, so he can catch illnesses early and hopefully prevent steeper medical costs down the road.

Although Dr. Dave started the program only eight months ago, he's no stranger to helping others.
"I would call him a pioneer in health care, I would call him a pioneer as a human being, and also as a doctor," says restaurant owner and longtime friend Julio Peña, who has been benefiting from Dr. Dave's services for quite a while. "We've been trading pasta and cappuccinos for stitching somebody up with him for years, and now that he's doing it with other people, it's great."
E-mail to a friend

All About Health Care Policy